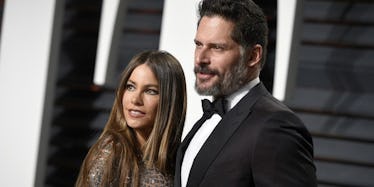 Sofia Vergara's Husband Gave Her The World's Most Romantic Anniversary Present
REX/Shutterstock
Sofia Vergara and Joe Manganiello are entirely too perfect.
You ever see a couple that is sooooo good looking, it makes you physically sick and remarkably angry?
Like, you pass them making out on a subway or posting Facebook pictures from some insane vacation, and your knee-jerk reaction is to yell, "OH, FUCK THIS BEAUTIFUL CRAP."
Hollywood's version of that is Sofia Vergara and Joe Manganiello.
Joe recently sat down with Cosmopolitan UK, and it turns out that as much as he has a body that we'll be telling our grandchildren about, he also is a huge softie.
This is what he said when asked about Sofia:
I wrote her a book as a gift for our first anniversary. It was about how we met, as well as our courting, and was about 40 pages long… I love my wife a lot.
HE WROTE HER A FRIGGIN BOOK! WHAT KINDA SHAKESPEARE-LEVEL BULLCRAP IS THAT?!?!!?
If you think him writing her a book is romantic, here is what he said when he was asked about how they started going out:
I was on a press tour when I found out Sofia was single. My friend is an editor, and told me she was about to make the announcement. I got her number from Jesse Tyler Ferguson [Sofia's 'Modern Family' co-star], then flew to New Orleans to take her on a date.
*Collapses*
The two weren't always a sure thing, though. Sofia recently made her way onto Harry Connick Jr.'s new show where she talked about her initial hesitance when it came to dating Joe.
According to Sofia,
When he started trying to convince me to go out with him, I didn't want to go out with him because of that. I don't want to deal with that. I'm too old now to deal with that guy that all the girls are after him. You're too hot. This is going to be so much work. I'm not kidding, I didn't want to go out with him because of how hot he was.
She got over that initial reservation and the two ended up getting married, so this all has a happy ending.
Manganiello shared the following post on his Instagram in honor of their anniversary in November.
When Sofia isn't hanging out with that short stack of hot wings (this is a new thing everyone should start calling hot men that I just came up with) she's hanging out with her "Modern Family" cast mates on set.
Jesse Tyler Ferguson recently posted some BTS footage from the set to his Snapchat.
Sofia Vergara is entirely too classy.
Citations: Joe Manganiello Wrote Sofia Vergara a 40-Page Book About Their Love Story for First Anniversary (People)