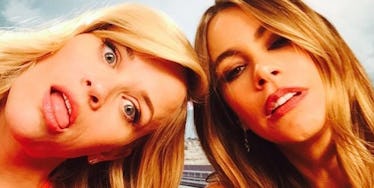 Sofia Vergara And Reese Witherspoon's Girlmance Is Adorably Perfect (Photos)
Reese Witherspoon and Sofia Vergara have gotten pretty close as the two make their rounds for their new film "Hot Pursuit."
While in the middle of their obligations to the press, the dynamic duo took some time out to make some silly Instagram videos.
In one video, they lip-synced to Taylor Swift's "I Knew You Were Trouble." In the second video, they did Miley Cyrus' "Party in the U.S.A."
Throughout the promotional tour of the film, Witherspoon and Vergara have also taken some adorable photos with one another.
You can check those out and the aforementioned videos below.
Witherspoon and Vergara lip sync Taylor Swift...
..and do their best Miley impressions.
A couple of gals just lounging...
...making funny faces.
Here they are with the director of "Hot Pursuit."
All smiles for these ladies.
Witherspoon photobombs Vergara and her man.
There's always a photo-op with these two.
Donut time.
These ladies fly in style.
It looks like they really are great friends.
Citations: Sofia Vergara Reese Witherspoon lipsync Miley Cyrus (NY Daily News)