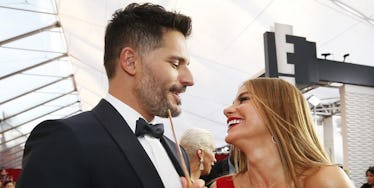 Joe Manganiello Adorably Reveals The Moment He Fell In Love With Sofia Vergara
REUTETRS
On top of being Hollywood's sexiest couple, Joe Manganiello and Sofia Vergara are absolutely, adorably in love with each other.
What a cruel twist of fate that God granted me THIS FACE AND BODY and not something like theirs.
The married couple, who tied the knot in November 2015 after a year and a half of dating, just posed for their first magazine cover together for HOLA! USA.
They also talked about the beginning of their relationship.
Manganiello told the magazine it didn't take long for him to realize the "Modern Family" star was the one.
He said,
We realized very early on that we each had to put the other person's happiness and well-being head of our own. Once you realize that kind of trust has manifested, you hang on for dear life. Or in my case, you go and buy a ring.
Vergara said of the proposal,
My heart was melting and I simply said, 'But of course!'
But like, how could you say no to the "Magic Mike" star? I'm gay, and I would say yes.
Vergara also knew Manganiello was special when she moved in with him. She didn't move in with anyone she dated until her 24-year-old son Manolo went to college. The dedicated mother said,
Partly because I hadn't found the right person and I knew that if I moved in with someone, it would have a psychological effect on my son. I wasn't going to bring a man into my son's home. I think that's why I always wanted long-distance relationships, with men in other countries.
But the secret to their happy marriage is their shared sense of humor.
The Colombian actress said,
He is so funny and ever since we met, that has been really important. We even talk to each other all the time in this little voice that we made up, like a couple of dorks. Whoever heard us, would say, 'What's their problem?'
Citations: Joe Manganiello Reveals How He Knew Sofia Vergara Was the One in First-Ever Joint Magazine Interview (ET Online)