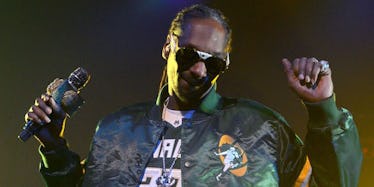 45-Year-Old Snoop Dogg Recalls The First Person He Ever Smoked A Blunt With
REX/Shutterstock
Leave it to Nardwuar the Human Serviette to get Snoop Dogg reminiscing about his first blunt.
Most of us tiny baby children smoked our first blunts in our trash hometowns.
Perhaps we sat in a friend's basement, or in the tiny parking lot behind a local cafe where delivery guys from the pizza shop next door would drive in and out, offering to buy 40s for the children of the neighborhood.
We laughed and coughed and the boys argued over who rolled best while the girls gave each other that look that says, "This is a dumbass argument. We are 16. Everyone rolls like shit."
Snoop's first blunt reflected less suburban mediocrity than most of ours, especially considering he shared his with Geto Boys member Bushwick Bill.
In his ninth interview with Nardwuar, Snoop recalled,
Bushwick Bill was the first person to smoke a blunt with me. He was the first person to actually split open a Phillies and gut it and then... fill it back up with chronic and smoke it with us. We had never seen that before.
Bushwick Bill is a legend for a lot of reasons, his resurrection* topping the list, so the concept of him introducing blunts to the Chronic King himself isn't so far-fetched.
Snoop also shared some insight on his friend and "Potluck Dinner Party" co-host Martha Stewart.
When Nardwuar asked if Martha is a G, Snoop answered,
A double G... She's a grandmother and a good lady... She loves the seasonings, spices and she loves a lot of meat... meat byproducts.
Good to know. Really, really good to know.
*Bushwick Bill lost his right eye when a girlfriend shot him in the face. He was rushed to the hospital, declared dead and woke up in the morgue hours later. The blunt laced with PCP he'd smoked prior to being shot saved Bill's life by slowing his blood flow. He shared this story on a beautifully animated episode of "Party Legends."
Citations: Snoop Dogg Reveals the First Person He Ever Smoked a Blunt With in New Nardwuar Interview (Complex)