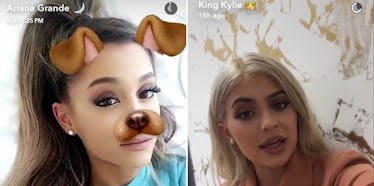 There's A Super Easy Way To Find Celebs On Snapchat And We Wish We Knew Sooner
Snapchat
Listen, no shade to the Snapchat developers, but finding people on that app is difficult AF.
OK, maybe a little bit of shade to the developers. Why do y'all have to make that so hard?
It's particularly difficult to find celebrities, because many of them don't even use their real name in their username.
For example, unless you know to search for "kylizzlemynizzl," you're missing out on a whole slew of 1o-second videos of Kylie Jenner looking dead inside.
But, while it's not the most intuitive system, there actually is a way you can easily find celebrities and other official verified accounts.
Here's what you gotta do:
Go to your "Stories" page.
Drag the screen down to reveal a search bar.
Search the word "official."
Now you'll see a list of all the "official" (aka verified) accounts that you don't already follow.
This handy little trick helped me realize I wasn't following Lady Gaga, which I immediately remedied.
And also that I wasn't following Calvin Harris, which I did not remedy.
(No shade, he just seems boring. OK, fine, that was shade again.)
But that's not the only way you can find verified celebs!
You can also use that search bar to search by emoji, and then see the official accounts that use that emoji.
I found this method of searching for celebs to be way more fun, and I spent way too long doing it.
For example, I found out Hailee Steinfeld uses the devil emoji for her account.
Such a whimsical joker, that Hailee.
And Sofia Vergara uses the shoe!
And BOTH Ashley Graham and Sabrina Sato (a Brazilian comedian) are using the bikini. EMOJI DRAMA!
Sooo awkward, am I right?
Anyways, shout out to Snapchat for keeping this super helpful search function so weirdly difficult to find!
Citations: Use These Secret Hacks to Find Every Celebrity on Snapchat (select/all)