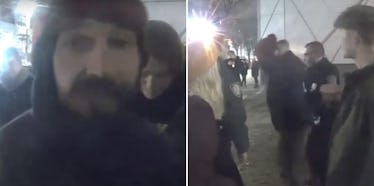 Shia LaBeouf Arrested For Attacking Trump Supporter With Scarf In Live Video
YouTube
Shia LaBeouf was arrested early Thursday morning in New York City after allegedly assaulting a man outside the Museum of the Moving Image.
According to a report from Us Weekly, the 30-year-old actor got into a fight with a man who showed up to Shia's anti-Trump performance art piece, "He Will Not Divide Us."
It is not yet known why the altercation occurred.
Detective Pisano of the NYPD confirmed to Us Weekly Shia was arrested at 12:30 am on Thursday after grabbing a man, whom bystanders described as a "Nazi," by the scarf.
The detective said,
His victim was a 25-year-old male. For whatever reason, Shia grabbed his scarf that was tied around his neck and head, and pulled him to the ground. The man was left with scratches on his face and red marks around his neck.
Shia was charged with misdemeanor assault and will appear in court at a later date.
The arrest was recorded on video because this is Shia LaBeouf art, so obviously it was live-streamed.
According to a report from TMZ, fellow protestors present at the arrest said,
Shia took a hit for us. There were all these Nazis here, he came out and tried to protect us.
The video of the altercation Shia was arrested for is not available, but tensions were also high between the actor and a Trump supporter at the museum earlier in the week, as you can see in this clip from Sunday.
The project, "He Will Not Divide Us," is a four-year live-streaming installation that opened on January 20 at the Museum of Moving Image in Queens.
The public is invited to come stand in front of a mounted camera and repeat the words, "He will not divide us," in protest of the Trump presidency.
This is far from the first time Shia has been arrested. In 2015, the actor actually wrote an essay detailing all his different arrests.
While I appreciate that Shia is trying to use his platform for good, I have to say... please stop. You're really not helping our cause, buddy.
You're making us all look like creepy, aggressive cult members. So, if at all possible, please just... don't.
Citations: Shia LaBeouf Arrested for Alleged Assault at Anti-Trump Protest in NYC (Us Weekly), SHIA LABEOUF ARRESTED AT HIS TRUMP PROTEST (TMZ)