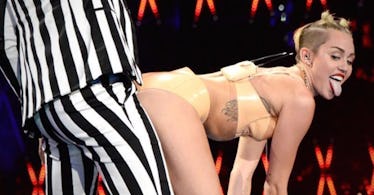 How Sexualized Female Celebrities Are Sending The Wrong Message
Disclaimer: The views and opinions expressed in this article are those of the author and do not reflect the official position of Elite Daily.
It seems to be the new phenomenon: female celebrities posing half-nude (if not completely nude) and doing ridiculous poses in attempt to be the only thing people will talk about.
By now, if you haven't seen Kim Kardashian's Paper magazine cover, you've probably been living under a rock.
The 34-year-old mother posed completely naked for the magazine this past November in attempt to #BreaktheInternet.
While Kardashian and Paper Magazine never specified what exactly breaking the Internet would entail, I'm guessing it would result in something similar to Ellen Degeneres's 2014 Oscar Selfie, which was retweeted more than 3.3 million times, eventually causing Twitter to shut down for a few hours.
What Kardashian probably didn't consider is not everyone wanted to see every inch of her lady parts all over his or her timeline.
While Kardashian is the first to come to mind, she isn't the only celebrity guilty of flaunting every part of her body for attention.
Miley Cyrus, 22, has also recently been in the spotlight for her provocative photos, music videos and performances. Do the 2013 VMAs ring a bell?
In the infamous performance, Cyrus pranced around stage in a crop top and underwear-like getup, grinding on dancers and teddy bears.
Cyrus even praised Kardashian in an interview with Elle, saying, "[...] people are accepting bodies, and I think Kim Kardashian's done that for a lot of girls."
Up-and-coming singer Niykee Heaton, 20, is also guilty of this crime. Initially, I followed her on Instagram because I heard her song "Bad Intentions" and was obsessed with her voice.
I was disappointed to find that 95 percent of her photos are of her topless and/or showing off her ass. She's another female role model with potential who is letting me down.
Now, I'm all for women and everyone else being comfortable with their bodies and sexuality to an extent.
Everyone likes to feel beautiful, and let's be honest: We all love the attention we get when we post a pictures in our bikinis or selfies when our makeup is just about perfect.
The problem with this is that once we get those 100 plus likes on Instagram or Facebook, it starts an addiction.
Soon enough, we feed off the compliments and the reinforcements that come from doing so. My guess is celebrities aren't much different.
In September 2014, Complex Magazine featured an article called "50 #ThirstTraps Nikyee Heaton Set On Her Instagram (That We Happily Fell Into)," which contained pictures of Heaton half-naked (mostly showing off her bare butt).
Then, this past April, Heaton had an interview featured on Complex.com, in which she claims,
"Pretty much every male who reached out to me in the music business […] had ulterior motives."
Later, she says,
"If I can use what I have aesthetically to draw people in, then why not use it? [...] They'll come and look at my bikini pics, and then they'll click on my Soundcloud and love my music."
Hate to break it to you, Heaton, but that's not exactly how it works in the mind of a man.
I can't help but think stars like Heaton bring the "ulterior motives" of men on themselves.
As sad as it is, when a girl posts provocative pictures, a guy is likely to only have one thing on his mind.
My fear regarding this subject is that before we know it, celebrities and rising stars will begin to think that the only way to get their names out there is by showing off how sexual they can be rather than proving the talent they have.
What kind of message does this send to young girls who aspire to be famous musicians or actresses?
When society encourages people like Kardashian, Cyrus and Heaton, it says the quickest way to get your name out there is by releasing a sex tape or prancing around naked.
As a population, we need to focus less on the scandalous females of Hollywood and more on the women empowering other women through their contributions in society (Amal Clooney, Sophia Bush and Ellen DeGeneres, to name a few).
We have the power to influence the world more than we think.