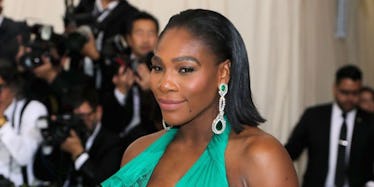 These Pics Of Serena Williams' '50s-Inspired Baby Shower Are Too Cute For Words
Neilson Barnard/Getty Images
Turn up the tunes on the jukebox and grab a malt — this is a celebration! Serena Williams' 1950s-themed baby shower put an old-school spin on the traditional event thanks to midi-skirts, polka dots, bandanas, and saddle oxfords. If there's any way to welcome a baby, you better believe it's with a bash that'll make Danny and Sandy swoon.
The tennis champ and her star-studded squad — Ciara, La La Anthony, Eva Longoria, Kelly Rowland, and of course, sister Venus — headed to Nick's 50's Diner in West Palm Beach, Florida, to get the party underway. The event was appropriately hashtagged with #ShakeRattleandRoll2017.
Serena rocked a bright yellow midi skirt (complete with a poodle), saddle oxfords, and a black crop top that accentuated her baby bump. Ciara also donned the classic poodle skirt look while Eva Longoria turned to a poofy red dress to channel her inner '50s chick, and Kelly Roland wore a cropped polka dot tank with a white midi. When a classic red truck is sitting in the parking lot, of course it makes an excellent photo prop.
A '50's sign similar to that of an old drive-in restaurant with rollerskating waitresses read, "Baby O's Dinner" and "Coming Soon," obviously a reason to do the "Cha Cha."
She posted a photo of her baby bump while wearing a yellow one-piece with a caption that read, "20 weeks," though it was supposedly an accidental announcement, according to E! News. She was later featured on the August cover of Vanity Fair, exposing her baby bump while her profile covered the fact that she was in shock about her pregnancy news. 
Serena's fiancé, Reddit co-founder Alexis Ohanian, appeared on CNBC's Squawk Box in late June, saying that Serena is "well on her way to being an awesome mom."
Congrats to these two hip cats and their upcoming ankle-biter!