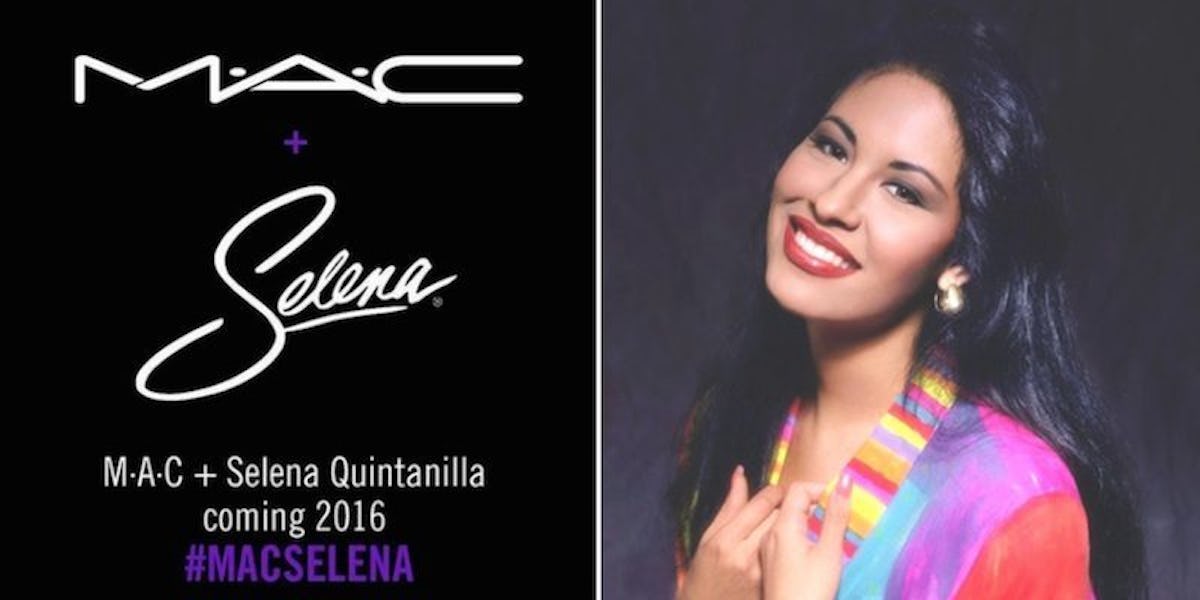 Selena's Amazing Fan Base Made Her New MAC Collection A Real Thing
Twitter
Yesterday, 90s kids everywhere collectively lost their minds after cosmetics giant MAC announced its newest collection will be inspired by none other than the late, great Selena.
Details about the collection, set for release next year, are scarce, but I do know it was Selena's devoted fans who made the inspired collection a reality.
This year marks the 20th anniversary of the Latina singer's death, and in February, fans began a Change.org petition that called for the makeup company to create a cosmetics collection in her honor.
The petition collected over 37,000 signatures and sparked #SELENAQUINTANILLAforMAC.
For MAC, that was more than enough encouragement.
Senior Vice President James Gager confirmed the news in a statement yesterday. He said,
Selena's talent and beauty, inside and out, have left a colorful, meaningful impact in the world that has continued to grow over the last two decades. We have heard the passion and enthusiasm from her fans and wholeheartedly agree that her legacy embodies MAC's philosophy.
Naturally, after MAC's surprise announcement, Twitter flooded with posts from excited fans.
#Truth.
The significance of this Selena line is huge. This all started from a petition. This is big for the Latin community! #MACSelena — Amaiya (@_abd18) July 16, 2015
Yes.
Shut up and take my money. #macselena https://t.co/0kuV1OmCY1 — Alexa (@alexavogue) July 16, 2015
Yes x2.
OH MY GOD. I need it all. #MACSELENA pic.twitter.com/8A7VpFy0hY — Alyssa (@alyssaveronica_) July 16, 2015
Also, yes.
starting a savings account just for #MACSelena — NalgoNONA (@Chiquitanetita) July 16, 2015
(!)
Word can't even describe how happy and excited I am about this #MACSelena pic.twitter.com/oasvaZ7YnP — Yara (@theebeautydiary) July 16, 2015
(!!)
LOOK WHAT JESUS DID!!!! RT @MACcosmetics: It's happening! MAC + Selena coming 2016. #MACSelena @SelenaLaLeyenda pic.twitter.com/aM40Eatf17 — Princess Consuela (@MsLynda85) July 16, 2015
These will be happy tears, doe.
#MACSelena IM CRYING YALL — Genève (@ohhgenayy) July 16, 2015
To be fair, I'm excited, too. This collection is sure to be one for the books.
Stay tuned for updates!
Citations: Selena Inspired MAC Makeup Collection is Coming in 2016 Get the Details (Us Weekly), MAC is Releasing A Selena Collection People Are Losing Their Minds (BuzzFeed)