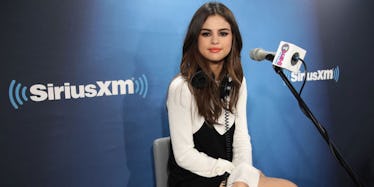 Selena Gomez Secretly Recorded A Country Music Duet And Fans Are Dying To Hear It
Cindy Ord/Getty Images for SiriusXM
Selena Gomez may have gone country without telling us, and fans want answers.
According to Nash Country Daily, in April, country music star Thomas Rhett mentioned Selena Gomez as one of the collaborators on his upcoming album.
That's not small news. While we know Gomez's BFF Taylor Swift has strong country music roots – and has continued to collaborate with country music artists since going full pop – the "Bad Liar" singer has given us no indication that she dabbles in the sounds of Nashville.
That doesn't mean Selenators aren't super interested in hearing a country music duet, though!
Thomas Rhett, who is famous for singles like "Die a Happy Man" and "Star of the Show" off his 2015 album, Tangled, reminded us all of the collaboration this week, but warned we might not actually get to hear it.
In an interview with Rare Country, which has since been removed from the site but was picked up by Country Fancast, Rhett revealed,
Anytime the country world melts into the pop world, it's an interesting conversation. A lot of things need to go correct for it to work out. But yes, Selena did sing a song of mine. It's still sort of up in the air if it's going to actually make the record.
Ummm, why wouldn't Selena make the cut, Thomas?
His decision to include the track on his album, which is due out in September, doesn't seem to have anything to do with his respect for Gomez as a person and artist.
He continued,
I've actually never met Selena in person. I've only been able to talk to her over the phone but I was blown away just how super nice and respectful [she was,] because I was terrified to talk to her, especially about the song. Like, I was scared to say, 'Maybe if you try this' to the biggest superstar that literally exists in this world and I'm just me? (Laughs.) But yeah, she was so sweet and I can't wait to meet her someday.
(By the way, The Weeknd doesn't need to get jealous. The 27-year-old country singer has been married since 2012 -- to someone he met in first grade!)
It feels wrong that there is a song just sitting out there with Selena Gomez's vocals on it and we don't even know if it's getting released. Gomez has yet to comment on the track, but that isn't stopping her fans' curiosity.
Selena, do you have anything to say? You can't keep us waiting for your country music debut now that we know it exists.