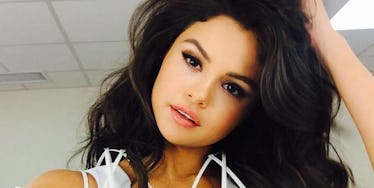 Selena Gomez Has The Most Liked Instagram Of All Time, But It Might Be Illegal
A few weeks ago, Selena Gomez stole Kendall Jenner's title of "Instagram Queen" with the most liked photo of all time.
A pic of the 24-year-old singer holding a Coca-Cola bottle went viral, racking up a total of 5.6 million likes.
Haha cool, if my Instagram gets 11 likes it's a solid day. But 5.6 MILLION? Fuck. My. Life.
Selena also topped Kendall Jenner's most liked photo by a couple million. Sorry, Kenny! The girl took your crown.
But it doesn't sound like Selena should be celebrating yet. According to The Fashion Law, her most liked Instagram of all time might be illegal.
Selena is one of the artists featured on the Share a Coke and a Song campaign, and she typically charges around $550,000 per social media post. Therefore, Selena was asked to post the endorsement as one of the brand's faces.
As Digiday explains,
The picture, however, isn't a seductive selfie or a candid backstage picture, but is actually an ad for Coca-Cola.
The main issue is the ad was undisclosed, and posting an endorsement without proper disclosure can result in a violation of the Federal Trade Commission (FTC) Act.
In order to clarify the post's intentions, promoters should use "#Ad," "Ad" or "Sponsored" on their social media.
FTC's guidelines state:
You have a financial connection to a company that hires you [as a brand ambassador or other similar role] and that relationship exists whether or not you are being paid for a particular [social media post or not]. If you are endorsing [a brand or product] in your [social media posts], your audience has a right to know about your relationship.
If you look at Selena's Instagram picture now, you will see she included the hashtag "Ad," but that was a recent addition.
When she originally posted the image, it did not specify the content was compensated, which is why there is currently an issue.
I guess Coca-Cola and Selena Gomez have to work some things out. If she isn't posting cute pics with her favorite soda any time soon, I guess you'll know why.
Citations: Selena Gomez Illegal Instagram (The Fashion Law)