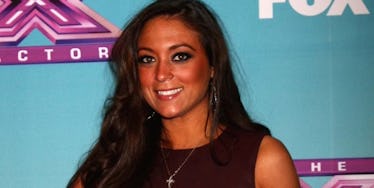 Here's What Sammi Sweetheart From 'Jersey Shore' Looks Like Now
Shutterstock
Back in the day, the "Jersey Shore" squad lived by the motto of GTL.
Once they were done doing GTL… naturally, they did some more GTL.
The crew fist-pumped their hearts out while throwing it down at the club… because what's getting lit without some prime fist-pumping?
We couldn't wait to see new developments in Ronnie and Sammi's ongoing love saga… And The Situation, well, he was obviously ALWAYS causing a freaking situation.
Snooki's insanely fuzzy slippers won all of our hearts. TBT to hair pouf days (which totally don't ever have to make a comeback).
Since MTV's "Jersey Shore," most members of the Seaside Heights squad have changed a lot, especially Samantha Giancola -- AKA Sammi Sweetheart.
Here are Sammi and Ronnie looking v. tan back in the day.
And here's what Sammi Sweetheart looks like now.
She's still rocking those beautiful long locks.
But do I actually spy a PALE Sammi?! Where's the tan at, girl?
She has a super chic wardrobe.
Real talk: where can I get that hat?!
And Sammi's really all about living a healthy lifestyle.
She loves to post pictures with her baby, AKA this downright ADORABLE pooch RH.
Sammi parties it up, surrounded by her girl squad.
And she takes mad selfies for DAYS.
This is giving me major "Jersey Shore" nostalgia.
Can a reunion happen soon, PLS?!