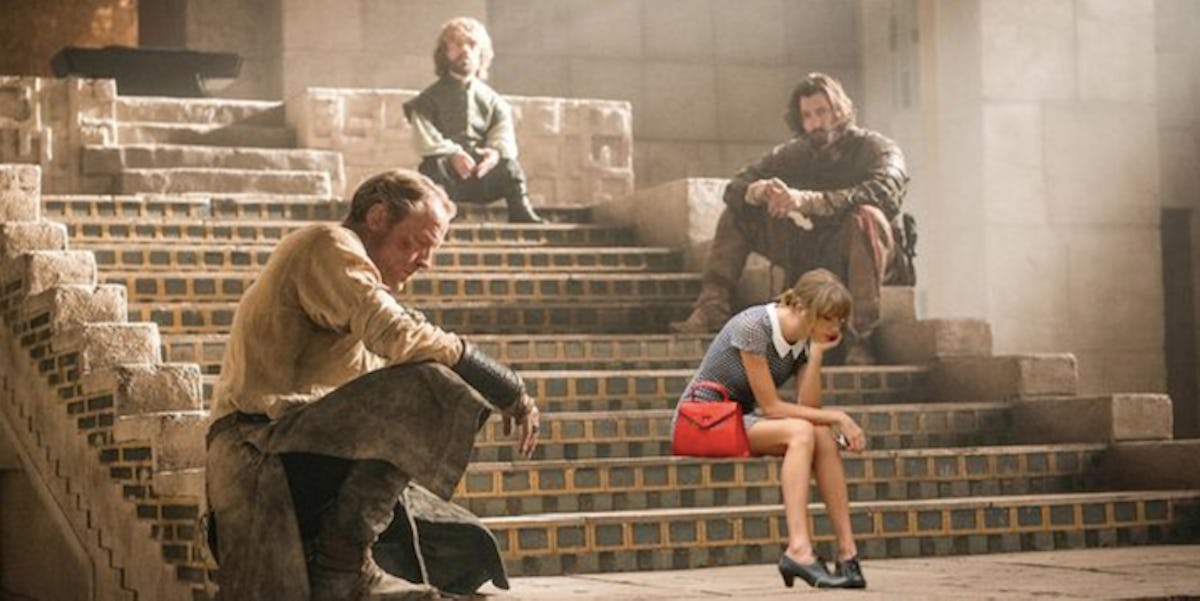 These 'Sad Taylor Swift' Photoshopped Pictures Will Make You Absurdly Happy
HBO
Taylor Swift sitting alone on a bench: sad.
Taylor Swift sitting alone on a bench with a bunch of photoshops done on her: brilliant.
Photoshop battles are the great equalizer on the internet. It's not about class, financial status, political leanings, gender or anything else. It's just about the 'shop.
One out-of-context picture, one subscription to Adobe, a billion possibilities.
I would actually argue that becoming the subject of a photoshop battle is a right of passage for celebrities.
You can have as many hit records or top grossing movies as you want, it does not matter to me. Unless you've had a bunch of teens in library computer labs copy and paste a picture that you're in, you are not culturally relevant.
Just ask Taylor Swift.
The 27-year-old singer is the latest celeb to become the center of a Reddit photoshop battle after someone took a picture of her looking sad on a bench.
Sad!
I'm not 100 percent sure where this is or if she's actually sad, not that any of that matters. This has literally never stopped the internet from doing anything.
Taylor could be crying at a funeral and the internet would probably photoshop that crying Michael Jordan picture over her face.
Anyway, READY... SET... COPY AND PASTE!
Taylor and Keanu talking about Kung Fu, probably.
#TeamTinyKeanu
This one is entirely too meta.
"Don't make a peep Kanye / while he's asleep Kanye"
Live look into Barron Trump's bedroom.
The time Taylor Swift was a stand-in during a "Girls" promo photo shoot.
MAN THIS IS BRUTAL.
For real, though, Taylor Swift could EASILY be a Trump.
"Life is like a box of chocolates, FULL OF DRAMA."
Lit.
Aftermath of being lit.
"True Detectives" season three?
TAYLOR! RUN! IT'S A TRAP!
Totally forgot about the time Ken Bone had to sit between Drake and Taylor because things were awkward after they stopped secretly hooking up.
Well done, the internet.
Citations: Sad Taylor Swift Got The Photoshop Treatment And Turned Her Into One Of The Best Memes Ever (BroBible)