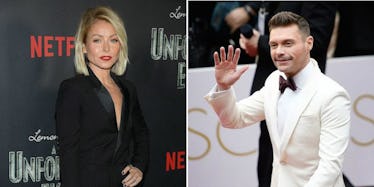 Ryan Seacrest Is Joining Kelly Ripa On 'Live!' And Everyone's Making The Same Joke
Getty Images
Ryan, we get it. You love hosting things.
Musical competition shows, the radio, the red carpet -- if there's an opportunity to stand with a microphone and talk to famous people, Ryan Seacrest's gotta be there.
So, you can imagine the world's lack of surprise when it was announced this morning Seacrest will be joining her as the official new co-host on the ABC talk show, "Live!".
Ripa announced the news saying, "Today the next chapter of the 'Live!' story is about to begin. Today is a very good day."
Cue Seacrest's big entrance, holding hands with Kelly and walking in front of a massive "Live! With Kelly & Ryan" marquee.
Ryan said, "Kelly and I have known each other for a long time and when this happened we were told to keep it a secret and we're not great at that."
Ripa followed up, "We don't call it a secret anymore in my house, we call it a Seacrest."
GROOANNNN. Groan, groan, groan.
Don't worry, the internet is here to back your unenthused feelings. Mainly, "Hey Ryan, leave some jobs for everybody else!"
Ugh, sure feels that way, @Elizavbelle.
CNN reports Seacrest will continue as host for his radio shows on iHeartMedia, and also recently renewed his contract to continue hosting E! red carpets.
So, how's the 42-year-old going to make it all work? Well, live in NYC during the week and fly to LA for the weekends, of course.
Seacrest beat out a variety of contenders for Ripa's co-host seat, including Joel McHale, Keegan-Michael Key, Michael Bublé, Jussie Smollett, Jerry O'Connell, Nick Lachey and Christian Slater.
Buckle up, America.
If you're used to taking your Ryan Seacrest on television after work with a glass of wine or in your car on your commute, get ready to wake up with him and your morning freaking coffee.
Boy is literally everywhere.