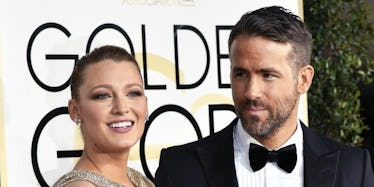 Ryan Reynolds Reveals How He Reacts To Blake Lively's Makeout Scenes With Actors
REX/Shutterstock
Ryan Reynolds and Blake Lively continue to be one of the hottest, and most loving, couples in Hollywood.
The 40-year-old Reynolds recently chatted with Elle about his acting career, his marriage and just how much he's learned from the 29-year-old Lively in four-plus years of marriage.
Reynolds and Lively have two young daughters together, and the "Deadpool" star revealed how it's Lively who plays Mr. Fix It when it comes to being handy at home.
He said,
She's as handy as any home-improvement character you'd ever meet. Her mom will say, 'Ryan, how do I back up this hard drive?' And I'm just looking at her going, 'You're asking the wrong person. Blake is right there.'
On a more serious note, Ryan Reynolds opened up about just how nervous he was before becoming a father.
The 40-year-old said,
There are 7 billion people on the planet. Pretty much everyone is doing it. It's not like you need to order the 'baby-starter kit' on Amazon. Instincts will come to you at the weirdest places and times. But yeah, early on, I thought, Am I going to be a good father? But I'm so much more patient than I ever imagined. I can comb a doll's hair for six hours and suddenly remember to blink.
Ryan Reynolds and Blake Lively each have extremely successful acting careers.
However, one of the things that can be more than a little awkward for these two is watching each other make out and participate in sex scenes with other actors.
The 29-year-old Lively said it was a "cruel and unusual form of torture" to watch Reynolds' sex scenes.
When Reynolds was asked how he feels about his wife making out with other actors on screen, he replied,
I don't mind that as much. I don't mean that in a creepy way. What people don't realize is, there are 50 or 60 tired, hungry, overworked crew members standing directly behind them. But the 'Deadpool' one, I remember shooting it and thinking, 'This is going to be tough playing in the headrest of every seat on a plane.'
Aren't these two the best?
Citations: Ryan Reynolds Doesn't Mind Blake Lively Kissing Other Actors On Screen (Cosmopolitan)