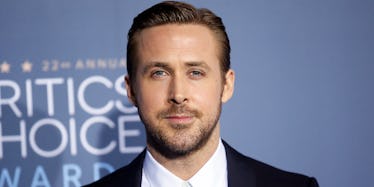 Ryan Gosling's Wax Figure Is The Scariest Thing You'll See Today
REUTERS
Apparently, Ryan Gosling has a reputation for being a Hollywood heartthrob among his loyal fanbase, but a new wax figure of him says otherwise.
Let's just say Ryan Gosling's new wax figure would have an egg avatar on Twitter if it had its own account -- it's that bad.
Wax museum Madame Tussauds just unveiled a new wax figure of the 36-year-old actor in Berlin. Let me just start off by saying it looks nothing like him...
OK, maybe it does, just a little bit, but there's still something unusual about Ryan Gosling's wax figure.
I'm not sure if it's the fact his eyebrows are probably too close together or his forehead is fucking massive. Either way, something's up, and it's overwhelmingly creepy if you stare at it for more than 15 seconds.
Here's Ryan Gosling's new wax figure unveiled on Monday at Madame Tussauds on Monday.
Take a closer look... Yeah, someone somewhere fucked up. This is not Ryan Gosling. This is creepy-looking almost Ryan Gosling!
Is it the facial hair? Is it the forehead? Honestly, it's quite hard to tell what it is. Gosling doesn't look nearly this strange IRL.
Let's take a look at an older wax figure of Ryan for good measure.
Ah, now that's more like it!
Back in 2015, the Madame Tussauds in Sydney was able to get Ryan Gosling's wax figure right. The "La La Land" star was put on display in a tuxedo as guests snapped photos with the figurine inside of a photo booth.
The description of the museum's then-latest unveiling reads,
His eyes won't be the only thing you're staring at though, with the wax figure also featuring his trademark washboard abs. Without his usual security and entourage, you can hug, touch and kiss Ryan, however as he's over six feet tall you might not come eye-to-eye with him but more eye-to-ab.
I'm surprised it couldn't speak and ask those burning questions Gosling is known for asking.
You know, this makes me wonder... What's the description for the new #CreepyRyanGoslingWaxFigure?! I'll bet you 5 Canadian dollars there is no ab talk included. Sorry, ladies.
Citations: Ryan Gosling's New Madame Tussauds Wax Figure Is Just a Little Bit Creepy (E! News)