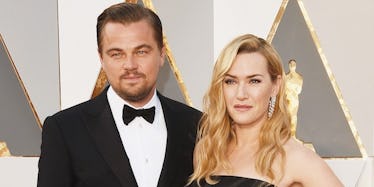 People Think Leo DiCaprio & Kate Winslet Are Hooking Up Because Of These Pictures
Jason Merritt/Getty Images
I don't think there is any Hollywood pair that is shipped more than Leonardo DiCaprio and Kate Winslet. Case in point: New photos of Leonardo DiCaprio and Kate Winslet relaxing in St. Tropez have people thinking they're hooking up. My heart will not go on because it's bursting!!! Just kidding, my heart will definitely go on because Leo DiCaprio and Kate Winslet are not hooking up.
This is just another rumor about the Titanic co-stars — a rumor that started when Star magazine made the photos of DiCaprio and Winslet at a pool in St. Tropez seem like a lovers' vacation. The magazine's cover story is called "Leo & Kate: Lovers at Last!" when in reality, the photos are really simple and just show the two of them hanging out by a pool — a totally platonic thing to do. The former co-stars were in St. Tropez, France, for one of DiCaprio's environmental charity galas. Before the night's event, they had some BFF time at the pool.
Kate was just being a supportive friend by attending Leo's gala! This is a normal thing friends do! They are not lovers! These rumors probably make their friendship really awkward sometimes! Nevertheless, these photos of Leo and Kate having a relaxing time has made people think they're together romantically. But one more time for the folks in the back: They're not.
DiCaprio and Winslet just have a very supportive friendship, but people ship them because of Titanic. And look, I get it, people. They were great in that movie. There was room on the door. These are all facts. But DiCaprio and Winslet have never, ever said they are in a relationship, so let's take their word for it (or lack thereof). But they do have one of the most supportive friendships ever, so let's appreciate them for that, shall we?
Here are Kate and Leo being supportive at the 2016 Oscars. Check out that look of platonic love in their eyes!
Look at them going in for a supportive hug after DiCaprio won a Golden Globe!
Look at this loving hug between old friends!
OPERATIVE WORD: FRIENDS. Leave Kate and Leo alone!