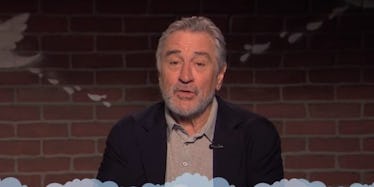 Robert De Niro Did An Entire Edition Of 'Mean Tweets' Alone And It's Epic
YouTube
Look, if I've said it once, I've said it a thousand times, "Goodfellas" is, without a doubt, the greatest movie known to man.
I know I'm going to catch a lot of heat for that comment, but to be honest, I don't really care.
If you've seen Martin Scorsese's 1990 classic, then you're familiar with Ray Liotta's brilliant performance as Henry Hill. However, my favorite character in the film is Jimmy Conway, played by none other than the great Robert De Niro.
Just watching this GIF makes me feel some type of way.
Believe it or not, Robert De Niro is 73 years old now, but that doesn't mean he's lost a step when it comes to killing it on camera.
Monday night, De Niro took his talents to "Jimmy Kimmel Live!" where he did an entire edition of "Celebrities Read Mean Tweets" by himself, and it was beyond epic.
So, I've hyped it up long enough, it's time for you to find a quiet place and get lost in De Niro's two-minute long edition of "Mean Tweets." Check out the video below for your viewing pleasure.
As you can hear in the video above, Robert De Niro started off slow for his first "Mean Tweet."
He said,
Welcome to my class on imitating Robert De Niro. The first step is to always contort your face like you just heard your grandma fart. Good.
What kind of savage would write something like this?
For his next "Mean Tweets" reading, De Niro was forced to go for his own jugular.
With a cheeky smile, the "Goodfellas" star read,
There are now two things visible from space: the Great Wall of China and Robert De Niro's mole.
Absolutely savage.
It's really funny to hear De Niro read "Mean Tweets," but it's even funnier to watch him react to each tweet. Like, this man is 73, but he hasn't lost a step.
In response to these tweets, the actor said,
Fuck you! You know what you can do, you can suck my cock, you fucking little scumbag.
Whoa! He slapped up each and every one of these keyboard warriors with the quickness!
Citations: This Special Robert De Niro Edition Of 'Celebrities Reading Mean Tweets' Is CLASSIC De Niro (BroBible)