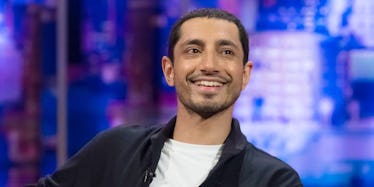 5 Times We Wished We Were Having Riz Ahmed's Baby
REX/Shutterstock
Riz Ahmed is having a real moment, ladies and gentlemen.
Last year, his work landed him in number one spots SIMULTANEOUSLY on both the Billboard 200 album chart and the movie box office chart, and now he's a featured character named Paul-Louis on the final season of "Girls."
He's a delicious man with talent to spare and, much like Hannah Horvath on "Girls," we would all like to have his baby now, please.
Put it inside us. Put the baby dust inside our bodies. We, as Americans — nay, citizens of the entire world — would like to carry his seed to the point of complete gestation ASAP.
Here are the five moments we just knew he was the baby daddy for us.
1. When Riz and Amara Karan kissed in "The Night Of."
Maybe he's a murderer. Maybe he's not. Either way, Chandra, girl, he's definitely your client. So forbidden! I guess if a woman is willing to vaginally smuggle druggles into prison for Riz Ahmed, she's also willing to break smooching rules.
Point is, gimme that baby!*
*Just a heads up: While I realize "gimme that baby!" is not an appropriate manner in which to begin the very serious discussion of co-parenting and childbirth, I'm going to be saying it a lot. So, going forward, you're going to have to get on board.
2. When he slayed the third verse of "Immigrants" on The Hamilton Mixtape.
AHHHHHHH!! RIZ MC!!! NEVER STOP RAPPING IN A BRITISH ACCENT!!!!!
Riz isn't new to the scene. Rookies don't get a spot on The Hamilton Mixtape, remember? Even Jimmy Fallon had two musical releases under his own name before appearing on this album, despite no one but Justin Timberlake asking for either of them.
Riz performed at the Glastonbury Festival back in 2007 and -- alongside Heems -- has recorded two releases as a member of the Swet Shop Boys between 2014 and 2016.
Let's hear it again: GIMME! THAT! BABYYYYY!
3. When he named the stolen imperial ship Rogue One in "Rogue One: A Star Wars Story."
Um, hello?! That's, like, the name of the whole movie. He was essential in the naming of this ship and this movie.
This seems like a small detail, but if you're not impressed, that just leaves more baby for me.
Hit it, sister: GIMME! THAT! BABYYYYY!
4. When he agreed to work with Jake Gyllenhaal in "Nightcrawler."
This item counts twofold because not only does Riz's character, Rick, agree to work with Jake's super creepy character, Lou, in the movie, but Riz also agreed to work with real-life scary person Jake Gyllenhaal during filming!
The film garnered nods from the Golden Globes and the Academy Awards, and Riz survived a 27-day principal photography schedule with Jake, a person who is as fearsome on screen as he is just walking around Los Angeles or New York in broad-ass daylight. Brave!
This goes without saying at this point, but: GIMME! THAT! BABYYYYY!
5. Every time he said some dumb, half-prophetic shit on "Girls."
So lame. So hot. So, so, so lame-hot.
Here are a few Paul-Louis gems for your personal pleasure:
"The best part of the beach isn't the beach — it's everything else."
"I call [the ocean] the big blue medicine pill."
"When nature puts on a show, you gotta come watch."
"Hate takes energy. Love gives vibes."
"I feel like a POS tellin' you to get an abortion, or whatever."
One more time: GIMME! THAT! BABYYYYY!
LOL! Seriously, though. Give me that baby.