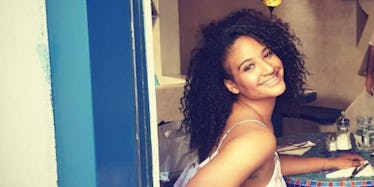 Here's Everything We Know So Far About Rihanna's Missing Backup Dancer
Whether we realize it or not, Shirlene Quigley has entertained us for years as a backup dancer for Beyoncé, Rihanna, Missy Elliot and Jamie Foxx.
On Sunday evening, Shirlene went missing, prompting Rihanna herself to share a video of the 32-year-old on Instagram with a caption beckoning followers to share any information regarding the dancer's whereabouts with police in North Bergen, New Jersey.
In the video, originally posted by Shirlene on her personal Instagram eight weeks ago, Shirlene speaks of the importance of treating all fellow humans like family.
She says,
Imagine if we treated each other like we all really came from the same family… I know people probably think I'm crazy because I'm always telling everyone, like, 'I love you! I love you!' Because the minute that I meet somebody, I do love them… If I make a connection, a relationship — whether it be one minute, one year or the rest of my life — if you're in my life, I love you.
Shirlene was last seen boarding a bus at Port Authority in New York City around 1 am on October 23, PEOPLE reports.
She lives alone in North Bergen and works as an instructor at the Peridance Capezio Center and the Broadway Dance Center in Manhattan.
Her father told NBC New York his daughter typically calls him each day at 6 pm, but he did not hear from her Sunday evening.
Authorities eventually located Shirlene's phone at a bridal shop in Chelsea, and her car was found at the Broadway Dance Center.
Shirlene's father also mentioned a striking comment Shirlene recently made to a friend, supposedly warning,
Get ready. It's about to happen and I'm going to need you to sub for me.
Missy Elliot also shared a throwback video on Instagram of Shirlene motivating one of her classes to stay authentic.
Missy urged those with info to contact police at 201-392-2100.
Citations: CELEBRITY Rihanna Posts Emotional Plea as Her Backup Dancer Shirlene Quigley Is Reported Missing (PEOPLE)