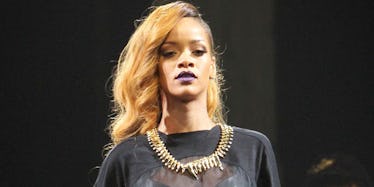 Rihanna Showed Up Super Late To Her Last Performance And Fans Were Pissed
Shutterstock
Some people cannot get anywhere on time, no matter how intent they are on being hella prompt.
For example, I've been at least 20 minutes late to every social event since high school, and Rihanna can't seem to get on stage on time for her own tour.
What I'm trying to say is: I am Rihanna. Rihanna is me. We are the same.
After several late appearances during her Anti World Tour, RiRi rolled up to her performance at the V Festival in Essex, England 30 minutes late on Sunday night, Daily Mail reports.
Fans who were left to wait in the rain were not having it.
@andrewsteel52 Bastille were very good as were Kaiser Chiefs, Rihanna was about 20-30mins late and it was raining too. And she mimed! — Ryan Charles (@RyanCharles94) August 22, 2016
She mimed tonight as well, after being booed by fans by turning up half an hour late. Poor show by Rihanna. #PopStar https://t.co/FI8Tu5Pjw8 — Chris Cowlin (@ChrisCowlin) August 21, 2016
Come on @rihanna !!! 25mins late on stage!!! #VFest — Claire Hebb (Smith) (@Clairey2121) August 21, 2016
When the 28-year-old finally took the stage, attendees questioned whether she was lip-syncing based on her time-keeping.
@Rihanna 20 minutes late then miming, shame on you. Too many beers with Bieber? — Clare Rickman (@ClareRickman) August 21, 2016
Imagine the pain going to v festival to see Rihanna and Justin Bieber miming — Jamie Powell (@jamiepowell07) August 22, 2016
If i paid that much money for a ticket id be raging sum1 was miming too #VFestival #TM #rihanna @itvthismorning — LeeAnn (@LeeAnnDrfc1989) August 22, 2016
Well Justin Bieber & Rihanna were both off their tits & miming, v.v.v. disappointed #V21st #VFestival — Annabelle (@MissAGPercy) August 22, 2016
Not everyone was disappointed by the Grammy winner's antics, though, some fans defended her on Twitter.
Rihanna's vocals at V Festival were incredible Anyone who says she was miming is lying — Dan (@DanSkelton2312) August 22, 2016
If Rihanna get booed for being late that's one thing but saying she lipsynced the entire performance is a lie.... — pure sales (@clapbackanna) August 21, 2016
Rihanna being late for shows is sad. To me, I don't care. But the reviews are indeed bad. HOWEVER Rih's crew is BIG, it's not always on her. — Ebba (@illestbaba) August 21, 2016
Tardiness aside, Rihanna fulfilled her obligation to perform at the festival and celebrated the end of the European leg of her world tour with her crew.
Rihanna hits the stage again September 3 for the Made In America Festival in Philly. Perhaps a few days off will give the "Needed Me" singer a chance to recharge and show up ready to play on time.
Citations: Rihanna infuriates festivalgoers at V by turning up 30 minutes late... as booing fans accuse her of 'miming' Read more: http://www.dailymail.co.uk/tvshowbiz/article-3752227/Rihanna-infuriates-festivalgoers-V-turning-30-minutes-late-booing-fans-accuse-miming.html#ixzz4I4B6XB4R Follow us: @MailOnline on Twitter | DailyMail on Facebook Read more: http://www.dailymail.co.uk/tvshowbiz/article-3752227/Rihanna-infuriates-festivalgoers-V-turning-30-minutes-late-booing-fans-accuse-miming.html#ixzz4I4B6ZBi8 Follow us: @MailOnline on Twitter | DailyMail on Facebook (Daily Mail)