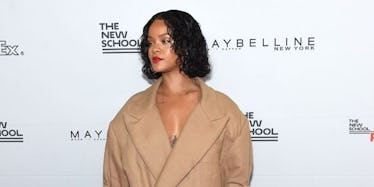 Rihanna's Obsessed Fan Reportedly Won't Back Down Despite Arrest
Jamie McCarthy
Rihanna, we certainly hope you're staying safe out there.
A report emerged that a super-obsessed fan of the pop star refuses to leave her alone, despite the fact that he has just been arrested for a second time.
According to the New York Daily News, 33-year-old Salmir Feratovic was booked in Manhattan on Tuesday, May 23 for criminal trespassing.
If that's not frightening enough, this isn't the first time Feratovic has gone on a quest in pursuit of Riri, the paper added.
The Daily News also claimed Feratovic tried showing up to Rihanna's building in 2016 — with a knife — though he claimed it was for his protection and he didn't intend to hurt the star. He was arrested for that incident as well.
It's bizarre to think that things like this do in fact happen to beloved celebs.
Though Feratovic was released from custody on Wednesday, May 24, and plead guilty to trespassing, reports from both the Daily News and TMZ claim he has no intention of backing down in his pursuit of the "Diamonds" singer.
These are extremely concerning reports, and we just hope Riri remains cautious during this time.
What's even worse is the fact Rihanna isn't the only one facing a serious issue like this.
A Brooklyn man had been reportedly following Malia Obama to her Tribecca internship in mid-April, according to the Daily News.
The paper also reports that Ivanka Trump's accused stalker "terrorized the daughter Donald Trump for two years" and even went as far as threatening to kill himself in her New York City jewelry store.
There were reports that when Miley Cyrus was a mere 16-years-old a man was arrested in August 2009 on charges of attempting to stalk her while she filmed a movie in Georgia.
It's a scary world out there — be safe, everyone.
Citations: RIHANNA OBSESSED FAN IS BACK ON THE STREET ... Vows to Continue Pursuit (TMZ), Rihanna's crazed fan says he won't leave her alone despite arrest (New York Daily News)