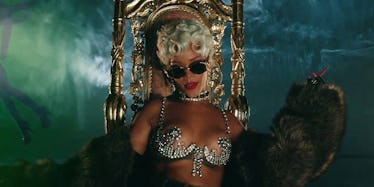 Rihanna Dyed Her Hair Platinum Blonde And Looks Totally Different
YouTube
As we prepare to embrace a new year, many of our calendars are filled to the brim with holiday parties and festive activities.
Coming from a traditional Italian family, it's that time of year when dedicating an entire day to baking an insane amount of Christmas cookies is the norm.
The kitchen constantly smells delicious AF. And if you have a hardcore sweet tooth like mine, things can get v. dangerous real fast.
When it comes to cookies, this chick over here has ZERO self-control. BUT it's the holiday so I follow the mindset of "treat yo self" and "YO-FREAKING-LO."
Real talk: I taste-test and work that electric mixer like it's my freaking JOB (but I digress).
Once the cookies are made, stockings are filled, presents beautifully wrapped and the halls are decked out in the finest glitz and glam.
We all reflect upon how we've been this year: Naughty or nice?
The new year brings change along with a sense of mystery. It's a time for hopeful new beginnings.
As many of us make resolutions close to the heart (and close to the gut after crushing Christmas dinner), we plan to embrace 2017 at full throttle.
It seems like Rihanna is already slaying that mindset like the boss she is. RiRi recently brought a major change into her life.
She chopped off her long locks and totally switched up her hair color.
What better way to ring in the new year than with a hot, different hairstyle? RiRi's seriously got the right idea.
I don't know about all of you, but I am seriously digging Rihanna's platinum blonde 'do.
The 28-year-old singer showed off her new look while she was doing the "Juju on Dat Beat" challenge in her friend's Instagram video.
Looking flawless and sexy AF, Rihanna.
*anxiously waits for RiRi to grace my Instagram feed with more photos of her new hair*
BRB. I'm going to switch up my hair color because I'm feeling inspired AF.
Citations: Is Rihanna's Blonde Hair Real? The New Shade Is A Reminder That She Can Pull Off Any Color (Bustle)