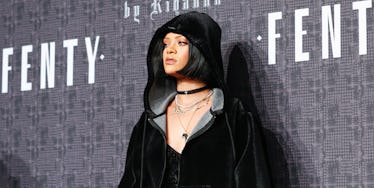 Rihanna Got Cryptic AF On Instagram In A Post Calling Out Her Exes
REX/Shutterstock
Rihanna took to Instagram to get v. cryptic on all of us.
Her post read,
None of my exs are married or in happy relationships so it's safe to say that I wasn't da problem lol
Have a look for yourself:
OH, SNAP. Shots seriously FIRED on Rihanna's Instagram.
The 28-year-old singer even captioned this photo by hashtagging the trophy emoji, so shit got REAL super fast. #Winning.
WE. HAVE. SO. MANY. QUESTIONS. ABOUT. THIS.
On the exterior, it seems as though our girl RiRi may possibly be throwing shade at all of her ex-boyfriends in this brutally honest post.
Or could this be a mask to low-key call out specifically one ex who also low-key knows he's being called out?!
One thing's for sure: Rihanna doesn't usually post messages like this on her social media account.
She typically graces our feeds with ~flawless~ pictures and cool videos of her performing.
Hey, girl HEY, Rihanna, are you throwing some shade in Drake's direction?
Or are you possibly calling out Chris Brown?
WHAT WENT DOWN?! We MUST know ASAP because the suspense is so real I don't think I can deal any longer.
Could Rihanna straight-up be dragging all of the ex's she's ever had?!
IDK about all of you, but this cryptic-ness is driving me actually cray rn.
Fans responded to Rihanna's Instagram praising her to the highest level.
A ton of them responded with the laughing crying face emoji and "YAAASS," because Rihanna is queen, and we all know that.
One fan wrote,
NO! RiRi is never the problem!!!!! NEVER!!!!!!!
Another commented,
omg yaaas! U made my day! thats 100% true
While one posted,
You're the bomb!!!!!!
And another,
LMFAO YES
Endless praise and positive vibes going in RiRi's direction right now.
*Crosses fingers for some clarification about who the shade was thrown at*