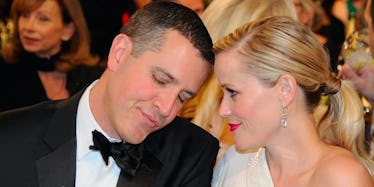 Reese Witherspoon's Husband May Not Be Famous, But He's Big In Hollywood
Kevork Djansezian/Getty Images
Academy Award winner, goddess of film and TV, Reese Witherspoon is a gift none of us really deserve. If you don't know her from her iconic roles as Elle Woods in Legally Blonde and Melanie (Smooter) Carmichael in Sweet Home Alabama, then you probably know her from her starring role on the Emmy-nominated HBO series that had us all shaking earlier this year, Big Little Lies. Outside of her work as one of Hollywood's biggest actresses, though, the A-lister keeps a pretty low profile, which is why not many people know who Reese Witherspoon's husband Jim Toth is.
To be honest, aside from being seen out with his wife and the occasional cute Instagram post on Reese's page, most people wouldn't recognize Jim Toth on the street. That's because he's not a celebrity... to us at least. Although Reese's hubby isn't an A-list actor or musician, he's still pretty powerful in Hollywood. Toth works for the Creative Artists Agency — or CAA as it's more commonly called — a firm that manages a majority of Hollywood's most sought after talents like Jennifer Lawrence, Meryl Streep, Lady Gaga, and, you guessed it, Reese Witherspoon. He's not Reese's agent, but, as co-head of the motion picture talent department, he does represent *major* names Scarlett Johansson, Matthew McConaughey, Kat Dennings, and Chris Evans, to list only a few.
Rumors that Reese and Jim were dating started way back in the stone age of 2010; obviously the rumors were more than just speculation though, because the couple was engaged by December of that year and married in March (Reese's birth month) of 2011 at a star-studded event. Since then, the two have had one son, Tennessee, together.
Just when you though Reese couldn't get any cuter, she goes and marries a hard-working, loving husband and father who, judging by her Instagram pic, isn't afraid to wear pink. Talk about A MAN.
Here's to hoping these two will be celebrating an Emmy win this year for Reese's work on Big Little Lies.