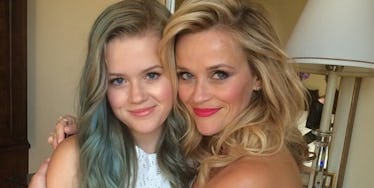 Reese Witherspoon And Her 15-Year-Old Daughter Are Basically Twins
Reese Witherspoon is only 39 years old, but she already has a 15-year-old daughter.
Since Reese and her daughter are relatively close in age, they share an uncanny resemblance to one another.
Witherspoon recently Instagrammed a photo of herself with her teenage daughter, Ava Phillippe, and the two look nearly identical. They both have blonde hair, blue eyes and similar facial structures.
Naturally, that makes sense as they are mother and daughter. But, what doesn't make sense is how cute they are together in the photo below.
Check it out.
Citations: Reese Witherspoon Daughter Ava Phillippe Look Like Twins in Pre Premiere Picture (Us Weekly)