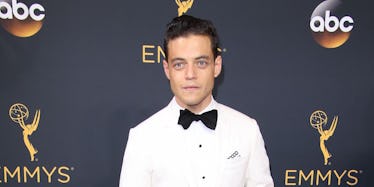 Sorry, Ladies: Rami Malek Wins Best Dressed On The Emmys Red Carpet
Rex/Shutterstock
If you didn't know who Rami Malek was before the 2016 Emmys, you're about to know now.
The star of "Mr. Robot" turned heads as he made his way down the red carpet in a dashing white suit jacket.
Rami Malek is our #ManCrush of the night#Emmyspic.twitter.com/6h44HBy3yC — Stan Hub⚡️ (@stanhub) September 18, 2016
Everyone else can just go home now. Even if the actor doesn't win an Emmy tonight, he already won the red carpet.
Speaking of nominations, Malek spoke to Giuliana Rancic on the red carpet about his potential Emmy, saying,
I feel really good. I mean, those guys that I'm nominated with are at the top of their game, so I feel pretty good about even being considered with them.
"Mr. Robot" garned six nominations in total tonight, with Rami up for Outstanding Lead Actor In A Drama Series. He's competing against the likes of Kevin Spacey and Matthew Rhys.
Good luck tonight, Rami. I'm rooting for you -- even though I haven't seen one second of "Mr. Robot."
Oh, and in case you were wondering, this man is 35 year old. My, does he age well.