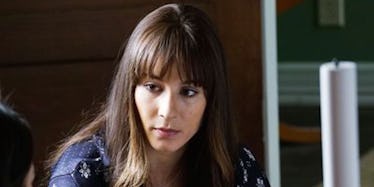 Troian Bellisario Got A New Haircut, So Say Goodbye To Spencer Forever
Freeform/Ron Tom
In case you needed reminding that the Pretty Little Liars series finale is airing tonight, Troian Bellisario got a haircut to make you bid adieu to Spencer Hastings for good.
Bellisario is the second of the main cast to change up her hair after the show finished filming. Lucy Hale went back to blonde when the show wrapped last year. So, sorry if you're not ready to say goodbye, but the liars themselves most surely are.
But Bellisario changed up her usual locks into a '70s-inspired look with a part down the middle. Usually I would say middle parts are dangerous (you do not want to see me with one, because yikes), but the middle part trend has really taken over hair these days.
And Bellisario can pull it off. But I'm going to miss those bangs. LONG LIVE SPENCER'S BANGS!
The 'do was done by celebrity hairstylist Dave Stanwell, and he posted a pic of the cut right after he finished up with Bellisario yesterday.
Bellisario is wearing a Harry Potter and the Sorcerer's Stone shirt in the pic, which was clearly a deliberate choice since the 20-year anniversary of Harry Potter and the Sorcerer's Stone release was Monday. (Yes, J.K. addressed it, and yes, I cried.)
The PLL star also posted a video of herself rocking her new look on Instagram, but she's not talking about her new locks in it. Instead, she's talking about her upcoming film that she created, Feed, coming out in theaters July 18.
In the video, she said,
Hey, guys. My new film Feed — that I wrote and that is deeply personal to me — comes out on July 18. And for some of my followers in Southern California and around Los Angeles, I'm going to get the opportunity to watch it with some of you. So check out below this video to find out more, and find out how you can come watch my film, Feed, with me. Thank you so much, and I can't wait to hear what you think about the film.
The caption read,
Calling out to my LA (or SoCal) followers: I'm releasing my new film #FeedTheMovie on July 18, and want to watch it with some of you!! Life presents us with many different kinds of challenges: academic, physical, emotional, mental. This film is based on my own struggle with anorexia, the issues I've faced and the power that comes with finding support. Watch the trailer (link in bio) and then share a post about a challenging time you or someone close to you have experienced, and how you have supported one another using the hashtag #FeedTheMovie and the #HereForYou for a chance to watch the film with me on release night in LA. Can't wait to see you there!
OK, TROIAN. WE GET IT. YOU'RE NOT DOING PRETTY LITTLE LIARS ANYMORE. YOU'VE MOVED ON. YOU'RE OVER IT. IT'S DONE. COOL.
But will you ever consider having bangs like Spencer again? Asking for a friend.