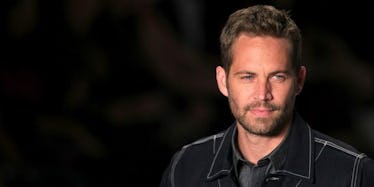 Leaked Docs Show Porsche Employees Joked About Paul Walker's Deadly Crash
I think I'm going to be sick.
In November 2013, famed "The Fast and the Furious" actor Paul Walker died when the 2005 Porsche Carrera GT he was a passenger in apparently spun out of control in Los Angeles and ignited in flames after slamming into a pole and trees.
The Porsche was driven by Walker's friend, Roger Rodas, who owned a racing shop, and Walker was in the front seat next to Rodas.
At the moment, Paul Walker's daughter, Meadow Walker, is embroiled in a wrongful death lawsuit against Porsche, and new leaked court documents from the case appear to prove Porsche employees joked about Paul Walker's death.
Apparently, court documents reveal at least one Porsche employee joked in an email that crashes of the model car Paul Walker was a passenger in, the 2005 Carrera GT, were good for sales numbers.
Despicable.
As you can see in the court document above, the email from a Porsche employee read,
I thought this might interest you. Another Carrera GT bites the dust as a bodyshop mechanic who claimed he was going less than 30MPH smashed into a telephone pole. Looks like he was going more than thirty to me!!! I was curious about a statistic that was mentioned to me and if anyone knows if it is accurate. Total worldwide production of the Carrera GT was 1280 and to date over 200 of them were already totaled. This would be great news to the remaining owners as the GT becomes more rare. Anyone know if these numbers are accurate?
What. The. Hell.
According to DailyMail.com, lawyers requested a Los Angeles Superior Court judge smack Porsche with sanctions for attempting to purposely hide the above email and others.
Walker's daughter, Meadow, is reportedly seeking $52,752.50 in sanctions.
Speaking on this harrowing new development, Meadow Walker's attorney, Jeffrey Milliam, told DailyMail.com,
The email about the 'totaled' 200 Carrera GTs was written in 2006 after only 1,280 cars in total had been manufactured. We have yet to learn how many more were totaled over the next seven years up to November 30, 2013 when Paul was killed as a passenger. We're going to find out now that Porsche cannot hide this information.
Meadow Walker's attorney released a statement that read:
Today's filing is extremely significant. We have learned that Porsche has hidden damaging evidence showing it knew its Carrera GT – the car that killed Paul Walker – was dangerous and unsafe. Porsche concealed this information from the public to protect its image and brand. Hidden records and emails show that Porsche management knew that more than 200 of the 1280 Carrera GTs produced from 2004 to 2006 may have been totaled within its first two years of sales. Any ethical company would have withdrawn the car from the market – or, at the very least, warned the public about its dangers, particularly since Porsche had deliberately left its touted Porsche Stability Management system off this model. Instead, Porsche management did nothing but make callous jokes in internal emails about how this would improve the value of the remaining cars.
I think I speak for everyone when I say I'm praying Paul Walker and his family get the justice they deserve.
Citations: 'This would be great news to the remaining owners!' Porsche employee accused of joking about the crash that killed Paul Walker because it boosted the value of other 'rare' Carrera GTs (DailyMail.com)