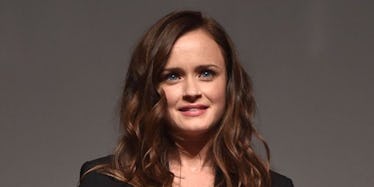 Alexis Bledel Is A Mom, But Photos Of Her Baby Don't Exist On The Internet
Alberto E. Rodriguez/Getty Images
I'm always impressed when celebrities can keep their personal lives private, but some stars really go the extra mile to keep the details of their relationship and even their children under wraps. Photos of Alexis Bledel's baby, for instance, don't even appear to exist, and it's not surprising, given that no one even knew when Bledel was pregnant!
Bledel and Vincent Kartheiser were secretly married in 2014. They met in 2012 on the set of Mad Men when Bledel guest starred in a multi-episode arc, continued to maintain a professional relationship while working on the show, and began dating following season five. The couple was engaged in 2013.
While they kept their wedding a total secret, it was news of Bledel's pregnancy that was the real shocker. It wasn't until she had a baby that anyone even knew she was pregnant, as Bledel and Kartheiser managed to keep her entire pregnancy out of the spotlight. Impressive, to say the least.
They welcomed their son in the fall of 2015, but that's really all the information anyone has about their child. There were never any details about his date of birth or weight, not to mention that his name was never revealed.
In fact, when Bledel attended the Screen Actors Guild Awards in Jan. 2016, just months after having a baby, no one was any bit the wiser that she had completely bounced back, post-pregnancy. At the time, she made no mention that she had even had a baby.
It wasn't until May 2016 that Bledel's baby secret was revealed – but not by her. Her Gilmore Girls co-star, Scott Patterson, told Glamour magazine: "She's really blossomed as a woman and now she's a proud new mother and married and happy."
He added: "I remember her as an 18-year-old kid, fresh out of college coming into Hollywood and being a little overwhelmed. She's just the most likeable, intelligent person and adorable human being. She hasn't changed at all. She looks the same."
As for Bledel having a child, he explained: "We're comparing notes because my son is about a year and a half older than her young son. I'm showing her photos and videos and what to expect. We're just really enjoying each other's company."
Bledel's rep confirmed the baby news to People on May 19, 2016.
To say that people were surprised would be an understatement. How could anyone famous go an entire pregnancy without the world knowing? No baby bump pics to be found, no curious eyes wondering if Bledel had a bun in the oven. Nothing.
Given all that secrecy (seriously, Bledel and Kartheiser are pros when it comes to revealing so little about their personal lives), it's not unexpected that little is known about their son. That means that there aren't any photos of their child either. Like, none. I'm seriously applauding them for doing their absolute best at keeping their little guy out of the limelight so he can live a pretty normal life.
In a May 2017 interview with ETOnline, Bledel spoke a bit about being a mom and how that factors into the roles she takes. She explained: "More than anything, I just think about what roles I take on, and make sure that it's really something that I feel passionate about if I'm going to leave home and go work. I just want to love what I'm doing."
Bledel is nominated for a Best Drama Guest Actress Emmy for her role on The Handmaid's Tale.
As for whether or not she'd leave her son to continue with Gilmore Girls, it's a bit uncertain, with Bledel explaining: "I have no idea [if I'll come back for more Gilmore Girls]. I'm just kind of living in this moment, and enjoying this journey. So, we'll see."
When fans discovered Bledel was pregnant and had a baby, there were plenty of questions:
With questions, come some theories, like this possibility:
And, of course, there was plenty of disbelief, with tweets like:
There was even some speculation swirling, as those who did the math believe Bledel was pregnant at the Gilmore Girls cast reunion at the 2015 ATX Television Festival. Check out some photos from the event and see if you can spy a baby bump!