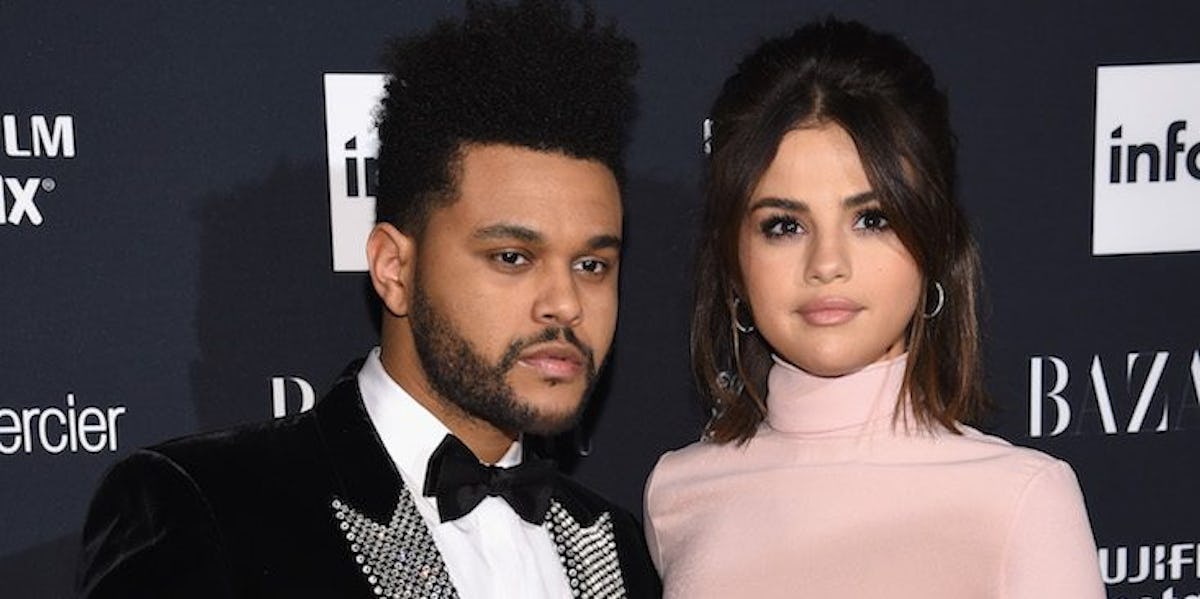 Photo Of Selena Wearing The Weeknd's Tuxedo Is Extra Adorable For This One Reason
Dimitrios Kambouris/ Getty Images
I think we can all agree that Selena Gomez and The Weeknd are the cutest human beings on the face of the planet -- especially when they're together. The famous couple has swooned us from day one with adorable vacations and serious PDA. Believe it or not, they just keep getting cuter and cuter. On Friday, Sept. 8, the duo hit the red carpet at a Harper's Bazaar party together, and they were certainly dressed to impress. Selena rocked a blush pink dress while her handsome bae wore a star-studded tuxedo. Throughout the night, a photo of Selena wearing The Weeknd's tuxedo appeared on his Instagram Story, and it's especially adorable for one particular reason.
Of course, Selena is adorable in almost all of the photos she poses in (let's face it, she's a natural beauty). But the picture her boyfriend posted onto his Instagram Story Friday night holds a tiny detail that makes the shot even more swoon-worthy. If you look at the picture, you'll see Selena posing in an all-black outfit with fringed bell bottoms and matching sleeves. She's sitting on couch with one leg bent and the other leg hanging, and she has a tiny smirk on her face. To be honest, she looks amazing.
In case you didn't already spot the tiny detail in the photo that's making the snapshot so much cuter, here's a hint: Look to the left of the picture and take a glance into the mirror. There, you'll see The Weeknd crouching down with his phone as he takes his girlfriend's photo. Am I the only one that thinks this is freakin' adorable?! Look at him swooning over her presence! He's so infatuated with her that he's taking a picture to prove to his millions and millions of followers that he is in love. Sigh.
Plus, the fact Selena is rocking her boyfriend's tux proves even more that they're here to stay. I have to admit, she rocks it just as good as he can.
Naturally, Twitter is swooning over his public display of admiration for Selena. He is without a doubt the Photographer of the Year.
"You're doing amazing, sweetie."
I can't get over how cute this is, either.
It's adorable, to say the very least.
"Abel, you're doing amazing..."
"HE'S SO CUTE, ADOPT ME."
Relationship goals.
"That's love."
You better believe it.
As you can see, people are swooning hardcore over Abel's photo -- but he wasn't the only one to share the love via Instagram this weekend. In fact, Selena mentioned her boo in her Instagram Story a few times, and each post will tug at your heartstrings.
On Friday night, the "Fetish" singer started her Instagram story off with a video of what appears to be Selena, The Weeknd, and Petra Collins before the Harper's Bazaar party. She didn't confirm the individuals in her video, but if you peek at her red heels, the Weeknd's shiny black shoes, and Petra's dress, you can easily come to the conclusion that it's them.
Then, she posted a retro Polaroid picture of Abel, followed by a sign with "The Weeknd" written across the top. To be honest, the support they give each other is overwhelming. Finally, she posted a video on her Story of The Weeknd sitting in a chair inside what appears to be a hotel room they're in... and that's it. It's so cute! She filmed him from across the room because she's just so freakin' proud to be his boo.
Still, nothing tops Abel's picture of Selena sitting in a chair with his tuxedo on. I don't know about you, but I have a feeling this couple isn't breaking up anytime soon... and I think Twitter agrees.
Stay cute, you two.