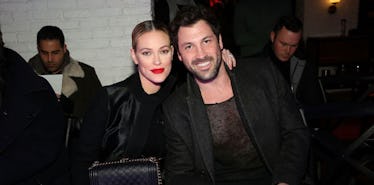 Peta Murgatroyd Was The Most Gorgeous Bride On Her Wedding Day – PHOTOS
Monica Schipper/Getty Images
It's wedding season, ya big crybabies!
If you're into castles, rainbow-filled skies, glitzy ball gowns and two insanely talented professional dancers exchanging vows in front of 300 friends and family members, then THIS WEDDING IS FOR YOU.
Dancing With The Stars pros Peta Murgatroyd and Maksim Chmerkovskiy got married at Oheka Castle in Long Island, New York, on Saturday, July 8, and it was a whole, sparkly thing.
Makism was the first to spot the venue during a trip visiting friends and family in Long Island. He told US Weekly,
I thought it was very Gatsby-esque. I remember I wanted to strive for the ability to organize a wedding in a place like that.
Well, strive and ye shall receive. (That's how the saying goes, right?)
The ballroom-dancing duo pulled out every single stop for their big day, and even managed to summon a rainbow just as they kissed at the end of the ceremony.
Murgatroyd said, "People lost their sh*t! I couldn't believe it when I turned around. It was amazing — perfect timing."
Murgatroyd rocked, I mean rocked, a Karen Sabag Couture ivory ball gown that was covered in pearls from the waist up. She also wore a cathedral-length veil and special high-heels she picked up in the Ukraine when the couple visited Chmerkovskiy's native country in 2012.
AND her ring is stunning, just look!
Chmerkovskiy admitted, "By the time she appeared, I was so emotional, I didn't care what it looked like."
Oh, and this is only six months after Murgatroyd gave birth. It was when her mother, Suzanne, walked down the aisle carrying their son, Shai, that Chermovskiy says he really "lost it."
As if you're sitting there thinking, "WE GET IT. IT WAS VERY ROMANTIC," just wait.
Murgatroyd and Chmerkovskiy also wrote their own vows.
Chmerkovskiy joked,
People were telling me, 'You're going to see her walk down and you're going to know exactly what to say. What they didn't say is, 'You're going to see her, freeze up, and forget what you wanted to say.'
Something tells me whatever he said, it was damn well perfect.