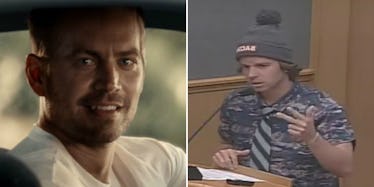 Surfer Dudes Ask City Council For Paul Walker Statue, Get Shut Down Immediately
Universal Pictures
It takes a great deal of strength to stand up and make your voice heard for a cause you truly believe in.
That's exactly what happened during a city council meeting, after quick surf sesh, in San Clemente, California.
A man named Chad, wearing a short sleeved button up, a striped tie and a beanie that says "bacon," approached the city council with an iconic opening line,
What up, council?
From there, he spoke candidly about what would bring not only the great city of San Clemente, but our nation together: a 12-foot statue of the "Fast and Furious" franchise star, the late Paul Walker, on the pier.
The eighth installment of the franchise, "The Fate of the Furious," will be the first film since Walker's untimely death, and it is set to be released on April 14, 2017.
Who else could be our "beacon of headlights that can guide us down a dusty road" during these "gnarly" times?
While poor Chad was instantly shutdown by the council, one member did applaud his vision of needing an inspiring figure, even going as far as calling it a powerful message (shout out Councilwoman Lori Donchak -- you're the real MVP).
But Chad didn't stand alone. His friend, Brody, also approached the council requesting a 12-foot statue of Paul Walker also be erected on the pier.
Sure, he used Chad's line of a "beacon of headlights that can guide us down a dusty road" again, but it was a good line.
Sadly, if you couldn't tell, these bros from SoCal were joking.
Personally, I could get behind a Paul Walker statue in Orange County.
It's just like Dom Torette said,
Money will come and go. We all know that. The most important thing in life will always be the people in this room. Right here, right now.
RIP PAUL. I WILL ALWAYS LOVE YOU -- TUNA SANDWICH, NO CRUST.
Citations: Surfer Bros Crash A City Council Meeting To Petition For A 12-Foot Paul Walker Statue On The Pier (BroBible)