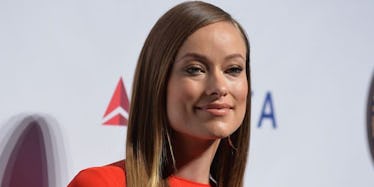 Olivia Wilde Cut Her Hair Into A Blond Bob And She Looks Unrecognizable
REX/Shutterstock
Olivia Wilde has always been very hot, but this new hair might be her hottest look yet.
I'm not saying she was hot as a kid or anything. I don't even know what she looked like as a kid. Don't make it weird.
But the now 32-year-old actress has objectively been one of the hottest people in Hollywood for over a decade now, and there are a LOT of hot people in Hollywood.
Now with this new bob haircut and blond dye job, there's just basically no competition.
Olivia debuted her new hair in an Instagram post on Tuesday, writing in the caption,
Oh what's up, BLONDE LIFE
What's up? What's up? I'll tell you what's up, Olivia, YOUR HOTNESS LEVELS. I didn't think it was possible, but she did it.
For reference, here is her hair from before.
Still very hot, right? But like... that blond, though.
I don't know if I want to marry her or marry her hairstylist, so that I too, can look this fabulous all the time.
The "Vinyl" actress debuted her new look at the Tiffany and Co. HardWear Launch Party as a part of New York Fashion Week on Tuesday.
There, she ran into her fellow dyed-blonde actress Kate Mara.
Olivia wrote,
When you roll up to the party with your new look and it turns out you just single white femaled your friend you haven't seen in a year. So fun checking out the new #TiffanyHardWear collection tonight. Thanks for having us @tiffanyandco! #TiffanyPartner #iloveyoukatemara
The "single white femaled" thing is a reference to the 1992 thriller film "Single White Female," in which a murderer begins dressing exactly like her victim.
Olivia and Kate DO look eerily similar now.
Honestly, though, if Olivia Wilde tried to murder me while looking like this, I wouldn't even be mad.
I mean, what a way to go, right?
Shout out to all the hairdresser who will now be shown this photo of Olivia Wilde for the next year. We know we'll never look like her, but please just humor us.
Citations: Olivia Wilde Debuts Platinum Bob: 'What's Up, Blonde Life' (People)