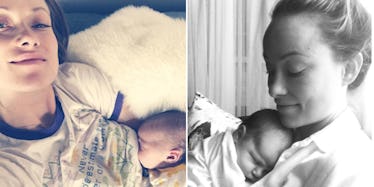 Olivia Wilde Posts Empowering Photo Of Her Breastfeeding Baby Daisy
Instagram
Olivia Wilde is absolutely loving life as a new mommy.
She already has a two-year-old son named Otis, but the actress recently gave birth to a beautiful baby girl -- her second child with Jason Sudeikis.
On Monday night, the 32-year-old mother shared a special moment with her daughter, Daisy, on Instagram.
Olivia Wilde added a picture of her breastfeeding her newborn baby and captioned the photo, "My drinking buddy."
Slay, Mama, slay. AND LOOK AT THAT LITTLE FACE! Isn't Daisy the cutest?!
Wilde is also wearing a shirt that says "Never underestimate the power of a woman," so haters can suck on that.
Haha, get it? Suck. I'm sorry.
The star has never shied away from speaking about breastfeeding. In 2014, Olivia Wilde posed for Glamour while breastfeeding baby Otis. She told the magazine,
Being shot with Otis is so perfect because any portrait of me right now isn't complete without my identity as a mother being a part of that. Breastfeeding is the most natural thing. I don't know, now it feels like Otis should always be on my breast.
The photos are absolutely beautiful. This woman is mommy goals AF.
Wilde also spoke about breastfeeding to Yahoo back in July. She told them,
People should be allowed to breastfeed wherever they want, whenever they want. There should be no pressure on women to breastfeed, or they are made to seem like they are terrible mothers. I think that's really unfair.
TELL IT LIKE IT IS, MAMA WILDE.  The actress clearly has no problem challenging the stigma surrounding breastfeeding. When I become a mother one day, I promise to whip out my nips in solidarity.
Thanks for keeping it real, Olivia. Please post more photos of your gorgeous baby soon!
And uh, hit me up if you need a babysitter. I'm really mature and responsible.
Citations: Olivia Wilde Breastfeeding Baby (ET Online)