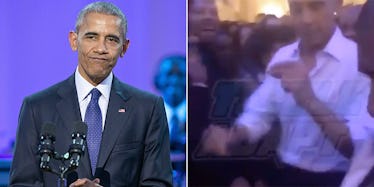 Obama Danced To 'Hotline Bling' With Usher, And It Was So Lit
REX/Shutterstock
On October 21, in the 2016th year of our Lord, the leader of the free world threw a party at the White House, took off his tie and danced to Drake like nobody's business.
The 28 seconds of glorious footage can be seen below.
President Obama dancing to "Hotline Bling" last night at The White House. pic.twitter.com/cbvWhvNyd1 — Word On Road (@WordOnRd) October 22, 2016
In the video, the damn president of these United States can be seen with two buttons open from his collar, dancing with Janelle Monáe and Usher to "Hotline Bling."
If you watch closely, like, if you really pay attention, you'll noticed something new about the president. He, too, cannot resist getting lit when he's in the middle of a circle at a party and the crowd starts chanting.
You know how it goes:
Aye, aye, AYEEE!
What a guy.
By the way, I don't want to give you guys FOMO, but I can't tell a lie. This party looked like it might have been literally the most fire event on Earth last night.
Let me explain. The White House's South Lawn hosted BET's "Love and Happiness: A Musical Experience." A lot of heavy hitters were there, not just Janelle and Usher. Common, Dave Chappelle, Naomi Campbell and yours truly even attended.
Just kidding, I wasn't there. But, there is a guy who reacted exactly how I would if I saw the goddess herself in the flesh.
I feel you, bruh.
Anyway, it looks like former Hot 97's Angie Martinez was there, too. And she gave us a play-by-play of the scene when Obama two-stepped like our favorite uncle at the cookout.
Martinez wrote,
In the middle of it all our president ran out to jump in a circle and dance to @champagnepapi w/ his hands in the air. All while a gigantic painting of George Washington hovered over the dance floor [...] Ive seen a lot in my life but tonight confirmed what i have always suspected, that anything is possible!
Yes, anything is possible, including our president being this lit.
God bless America.