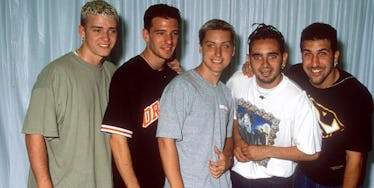 *NSYNC Is Reuniting For 'Special' Event And Yes Justin Timberlake Will Be There
REX/Shutterstock
OMG OMG OMG OMG OMG OMG OMG OMG OMG OMG OMG OMG OMG *NSYNC IS GETTING BACK TOGETHER OMG OMG OMG OMG OMG OMG OMG OMG OMG OMG OMG OMG OMG.
The details are vague and there isn't much actual hard information, but, according to Lance Bass, an *NSYNC reunion is in the works and will happen sometime around Christmas in honor of the 20th anniversary of Home For Christmas.
The reveal was made on Entertainment Tonight while Lance and Katie Krause had a casual conversation by his kitchen Island.
During the interview, Lance told Katie,
We're coming out with a really cool vinyl edition of our Christmas album because it's coming up on the 20 years of that [1998 Home for Christmas] album.
Later saying,
And then we're going to be getting our star on the [Hollywood] Walk of Fame this year at some point... We just have to decide on a date. We're terrible at planning things... We're five guys, so for us to make a decision about anything is really hard, so we just need to do it. So hopefully maybe around Christmas time.
IZHAPPENINNNNNGGGGGGGG!!!
One cute reveal Lance made later on in the clip was that all the *NSYNCers still talk daily to each other -- though Lance got real defensive when she asked to see his phone.
He joked,
All we do is bag on each other all day long. I will find pictures on Instagram of us from the '90s so we're always giving it to each other.
When Katie asked if some of that poking is directed at Justin Timberlake's frosty hair, he answered Joey actually gets the most hair criticism, saying,
Joey gets a lot of the brunt of our jokes. It's fun. Those guys are my brothers. We act like immature brothers all the time.
Now if only O-Town can get their crap together and REALLY take 2017 to the next level...
Citations: EXCLUSIVE: *NSYNC Will Reunite at Walk of Fame Ceremony This Year -- Plus, They're Re-Releasing Music on Vinyl (ET)