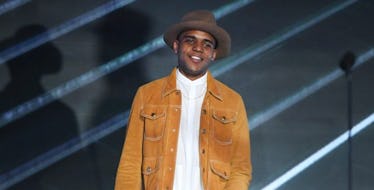 Notorious B.I.G.'s Son Was At The Billboard Awards And He Looks Just Like His Dad
Ethan Miller/Getty Images
Sean "Diddy" Combs honored Notorious B.I.G. at the Billboard Music Awards tonight, on what would have been Biggie's 45th birthday.
To honor the late rapper, Diddy brought out Biggie's son, CJ Wallace, and introduced him as a new recording artist.
Wallace addressed the audience saying he knows his dad is looking down on him and that he and his sister will work to make sure they're living up to their father's name.
He said,
I know my father is looking down on all of us tonight and all of all this love and support. My sister and I will continue to carry on his name with tremendous pride, and live my life by his words.
So what do we know about CJ Wallace?
Well, his full name is Christopher Jordan Wallace, named after his dad, and he's an up-and-coming musician and actor following in the footsteps of his father. He was only 4 months old when Biggie was killed in March of 1997.
Fans are saying he looks just like Biggie.
When Biggie died, he left behind his wife singer Faith Evans, their son CJ, and CJ's sister, T'yanna, Biggie's daughter from an earlier relationship.
During the tribute, Diddy also previewed a trailer for the new documentary he's made about Biggie's life, Can't Stop Won't Stop: A Bad Boy Story. CJ previously played a younger version of Biggie in the biopic Notorious.
Before this documentary, CJ appeared in Kicks with Oscar-winner Mahershala Ali.
In a recent interview with Metro UK, CJ was asked about what it was like to be the child of two famous musicians. He said,
I've been getting this question a lot about pressure from having two parents that were legends in the music industry. When I was younger, I did sense the pressure, but once I grew and realized how much I loved the music and loved the films and anything involving art. It's no pressure at all, it's really just fuel to the fire.
Can't Stop Won't Stop: A Bad Boy Story is set to premiere exclusively on Apple Music on June 25.