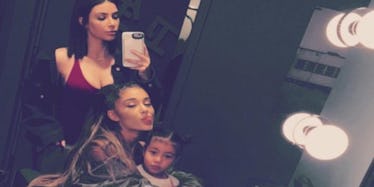 North West Met Ariana Grande Backstage At Her Show And The Pics Are Adorable
Instagram
For a 3-year-old kid, North West sure is living a glamorous life.
While it's not exactly surprising the daughter of Kim Kardashian West and Kanye West gets to mingle with A-listers all the damn time, it's hard not to be jealous.
Of a 3-year-old.
Because not only is North lucky enough to go to Ariana Grande concerts with her mom, but she also gets to hang out with Ari herself, backstage before the show.
Just look at this cute picture and tell me it isn't #LifeGoals:
I mean, North is – one more time – 3 YEARS OLD. And she has already accomplished what millions of Arianators across the globe would die for.
Ariana is playfully sticking her tongue out and giving North the biggest cuddle. It's a completely adorable shot, and it looks like the two have struck up a pretty close bond.
Meanwhile, selfie queen Kim is lurking in the background, doing what she does best.
She posted the pic on Instagram and Snapchat, where she added the caption "Show time," ahead of Ari's concert at The Forum in Inglewood, California.
And if you think that first picture is super cute, just wait 'til you get a look at what happened when Ariana and North started playing with Snapchat filters.
North's a regular guest on the weird and wonderful world of her mom's Snapchat, but this selfie with Ariana tops it all.
This time, they went with the bunny ears filter. It's a solid choice, but it's left me low-key freaking out that the dog isn't the hottest filter anymore.
And when her new BFF had to leave her side to get up on stage, North just carried on having the time of her life.
Kim later posted a Snap vid of the pair dancing along while Ariana performed "One Last Time."
I'm sorry to break this to you, but North West is almost certainly having a better 2017 than you are.