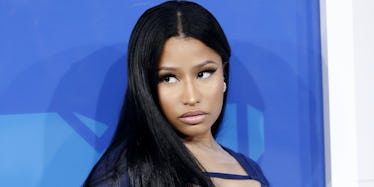 Nicki Minaj Is Fully Naked With A Man In This Photo, But It's Not Meek Mill
REUTERS
Alright, does anyone have the slightest clue where Meek Mill is right now?
I think he'd be pretty damn upset if he saw Nicki Minaj's spread in the latest issue of Marie Claire. The 33-year-old star is gracing the cover of the magazine's November issue.
Not only does she grace the cover, but she's also spilling all the beans about her views on a multitude of important topics, including women's rights, the current state of our country, competition in the music industry and, of course, Beyoncé.
But that's not why Meek Mill should be mad.
If anything, he should be super proud of Nicki. After all, she's been able to accomplish a number of goals that no other female artist has been able to achieve themselves.
Here's why I wouldn't be the least bit surprised if Meek Mill is crying into a pillow right now...
Yeah, you're NOT dreaming.
That really is Meek Mill's superstar girlfriend posing BUTT-NAKED with some random guy.
Now, obviously this is just some male model who was cast to shoot with Nicki for her magazine spread -- but still.
I mean, we're talking about MEEK MILL here, OK?!
The man is having a tough year already after Drake effortlessly annihilated him with the entire world watching. As if that weren't enough, The Game sent a barrage of shots at the 29-year-old rapper which basically reignited the downward spiral of Meek's career.
Don't get me wrong, he's still doing pretty well for himself and his loyal fans have stuck around to nurse him back to good health after getting burned by Drizzy. Look, all I'm saying is that this is the very last thing Meek needed...
Thanks, Nicki!
The least she could have done was include him in the shoot since, well, they CLEARLY wanted to cast a male counterpart.
Perhaps the best part is that the nude madness didn't stop there. Another photo of Nicki Minaj was snapped for Marie Claire's November issue and this time, there were TWO other guys.
Don't worry, Meek.
We're not judging you. We're just kind of shocked you were completely fine with your girlfriend posing nude with two random male models. Do you even know how immature the Internet can be?
Eh, at this point, I'm sure you do! And besides, Nicki was just trying to make a point with her revealing photoshoot.
The singer and rapper spoke to Marie Claire, saying,
When Kim Kardashian's naked picture came out, [Sharon Osbourne] praised it, and my fans attacked her for being such a hypocrite. So it wasn't trashy and raunchy when a white woman did it, but it was when a black woman did it? It's quite pathetic and sad, but that is my reality, and I've gotten accustomed to just shutting it down.
I knew there were something more to it!
Citations: Nicki Minaj Is Here to Slay (Marie Claire)