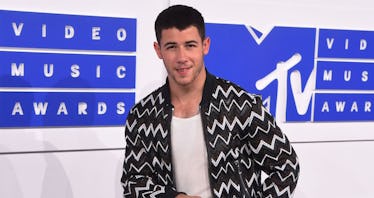 No One Can Get Over Nick Jonas' Bulge In His Tight Leather Pants At The VMAs
REX/Shutterstock
There were a lot of winners at the MTV VMAs tonight, but the real MVP was Nick Jonas' package.
Yup, I'm talking about the man's JUNK. The 23-year-old singer performed at the awards show and totally killed it.
He looked great, he sounded great and it was a magical moment.
However, it wasn't Nick's voice or charm or even his BICEPS that stole the show. NOPE. FANS WERE FEELING THE BULGE.
Bulge game on point! @nickjonas #VMAs pic.twitter.com/VAvhnRS3l0 — N E L S O N (@MrNelsonRemo) August 29, 2016
Seriously, take a look at that thing. It seems to have a life of its own.
SHUT UP. I'M NOT CREEPY. I'm just making a simple observation. According to Twitter, I'm not the only one who noticed.
No one can get over Nick Jonas' bulge in those tight leather pants.
Nick Jonas' bulge should win a moonman. #VMAs — Mark Pochow (@MarkPochow) August 29, 2016
I'mma need to go to church in the morning after this performance.
I swear Nick Jonas bulge was bigger then his performance #VMAs — Eddie (@SincerelyEd) August 29, 2016
WHAT IS THIS BULGE DOING TO ME??? I'm about to pass out.
WE LOVE YOU, NICK.
BUT WE MOSTLY LOVE YOUR BULGE.
I'm sorry, I'm done.
JK, BLESS THE BULGE!!!!
For more live coverage of the MTV Video Music Awards, check out Elite Daily's Facebook page and Snap Story, elitedailysnap.