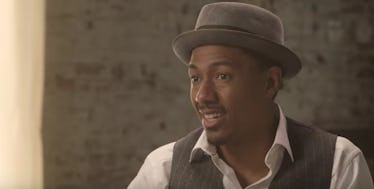 Nick Cannon Opens Up About Dating Again: 'Sit Back And Let Love Find You'
YouTube
Nick Cannon is a hopeless romantic and he isn't afraid to show it.
The 36-year-old actor is most known for starring on "The Nick Cannon Show," hosting "Wild N Out" and "America's Got Talent" and rapping on multiple albums. However, at the moment, he's focusing on his sensitive side.
The star's latest project involves producing the new Millenial love story, "Why Real Is Rare."
In the short docu-film, Nick Cannon and The Daimond Producers Association (DPA) teamed up to interview six couples about what makes their relationships so unique and authentic.
Elite Daily was able to sit down with Cannon to discuss his role in the film, the importance of exploring human connection and commitment in the modern age and how this experience has shaped his view of love.
Nick dove into the conversation right away by discussing his biggest takeaway from speaking with the couples. He noticed they all shared a few commonalities, one being their enthusiasm for living in the moment. Nick explained,
They were all in love and engulfed into the moment... currently... like living in the now. Present love. When [the couples were] asked about previous relationships, obviously we've all been in them, but they were like 'yeah, yeah, that was before, but there's nothing more real than the one I'm currently in.' They weren't even talking about the future. It was all about right now.
Nick also reflected on his own dating life and admitted he feels differently about searching for love.
He told us,
What I learned through that process is it's not about jumping out and finding love, but you just gotta sit back and let love find you. That's the most real and authentic way. If you try to force it, it can't really be real because you made it happen. It's like making a diamond... you can't make a diamond, you have to ultimately just allow that discovery process to happen.
So what does he think about social media? Is it helping people form genuine connections or hindering them from finding real love? Nick commented,
I believe technology and social media are helping people fall in love because they are truly that: helpful devices that lend us a lot of essential tools we didn't have before. It allows us to get to know each other way faster... Before, the way you would express yourself about your significant other... you would tell a friend, 'hey I'm really into this person.' But now you can put it on display for the world to see.
DAMN, did you know Nick was such a softie? This boy ain't a fighter, kids. He's a lover. He added,
I'm a hopeless romantic at the end of the day. I really love human connection especially when two people are yearning for love. There's something really potent about that.
AWWWWW, my heart. Nick may not be looking for love, but he sure does sound ready to find the one. For now, I guess he's just gonna sit back, relax and enjoy life in the moment.
Seriously, though, Nick... if you change your mind and want a girlfriend, hit me up. I'm more than happy to play the part.