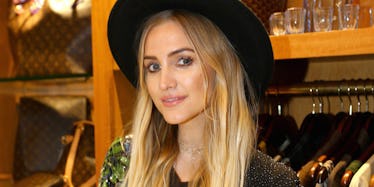 If You've Been Craving New Ashlee Simpson Music Since 2008, You're In Luck
REX/Shutterstock
Ya girl Smashlee is back with another album of rockin' smash hit singles to save the world from eternal damnation.
Ashlee Simpson's been out of the biz for nearly a decade, but she told Us Weekly she's working on a special project with husband Evan Ross. Could it very well bring back the golden days of the early 2000s, when life merely foreshadowed the horrors of 2016?
She told the site,
We're working on an album together. So in the new year, that will be happening! It's been really fun to work together.
Both Ashlee and Evan were born of supreme diva stock: We all know Ash's sister Jessica Simpson from hearing her late '90s pop ballads and buying her purses off the clearance rack at Lord & Taylor, while we know Ev's mom, Diana Ross, from HAVING EARS/HEARTS AND ATTENDING EVEN ONE WEDDING/BAR MITZVAH/SWEET 16/BEYONCÉ MOVIE.
No pressure, kids.
The couple, who have been married two years and welcomed daughter Jagger Snow in 2015, are mainly looking forward to spending more time together throughout the creation of this album.
Evan explained,
When you work separately, you don't get to hang out — so this works out well.
Ashlee insisted she's "definitely excited," adding,
This way we can tour together! …I love working with my husband.
Don't worry, Smashlee purists, she fully plans to commit herself to a solo album after this "soulful, fun" husband/wife duet record, which they said will be "reflective of music that [we] both like," is finished.
Ash reassured fans,
We're doing this album together and then we'll go off and do our own.
Though the 32-year-old mother of two has taken eight years off to focus on family, her hub said she maintained her love of music.
Evan shared,
I don't think she ever really stopped. Music is something so important to both of us. So we'll release this album and then she'll work on hers.
Well dang, girl. Get to it!
Citations: Ashlee Simpson Promises New Music in 2017 (Us)