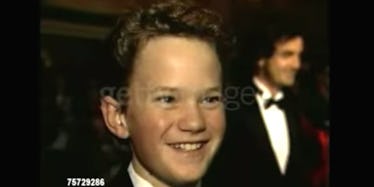 Clip Of Neil Patrick Harris At 1989 Golden Globes Shows He Was Born A Star
Some of the younger Millennials out there may not be aware of the fact Neil Patrick Harris was a major child star.
It's actually pretty amazing he was able to remain well adjusted enough to become a successful adult actor and, eventually, a competent host of The Oscars.
But, back in 1989, NPH was just a 15-year-old kid who was nominated for a Golden Globe.
He was nominated for Best Supporting Actor for his part in a film, which also starred Whoopi Goldberg, called "Clara's Heart."
This was before Harris played Doogie Howser, MD. "Clara's Heart" was the first thing he was ever in and he was nominated for a major award.
The point of all this is NPH had a good head on his shoulders and was poised and ready to be a star even as a young teenager.
This much is evident in the clip above from the 1989 Golden Globes. Check it out.