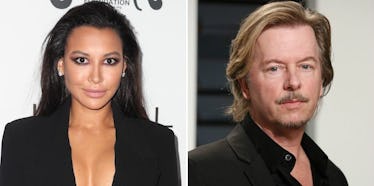 Naya Rivera And David Spade Are Dating And We Hoped It Was An April Fools' Joke
REX/Shutterstock
Naya Rivera and David Spade are confusing the world. It doesn't help it was just April Fools' Day either.
The 30-year-old actress was seen cozying up to actor David Spade at the Halekulani hotel on Waikiki beach on Saturday.
No, that's not a typo. Big Sean's ex-girlfriend was seen getting super close to 52-year-old DAVID SPADE in a pool at a lavish Hawaii hotel.
They were said to have been with Adam Sandler, Rob Schneider and their families. A witness spoke to Entertainment Tonight about the odd couple, explaining,
The pair went for a short swim, hugged and had lots of body contact in the pool. They kept to one side of the pool where there was the most covering from prying eyes. Outside of the pool, they sat on lounge chairs and talked animatedly. They spent about an hour poolside together... They were very happy. They looked pretty comfortable together.
Damn, it looks like things are really heating up between these two.
That's nice and all, but let's call a spade a spade here -- this is super weird and totally random AF. At the same time, though, we have to remember these two just starred in the Crackle comedy film "Mad Families" together.
It's not totally impossible they might've hit it off and are now dating... Still, the people of the internet (including me) can't get over this odd pairing.
It's true! Naya Rivera and David Spade are reportedly dating.
Weird, right? I know...
Everyone knows!
Is this just some kind of cruel April Fools' Day joke or is this actually happening?!
Their newfound relationship isn't garnering all bad feedback, though. Some people are inspired by the new couple.
For the most part, people are CONFUSED.
Screw what we think!
How does Naya Rivera feel about the feedback from fans after news broke about her new romantic connection to David Spade? It turns out she's got jokes, too.
Naya Rivera responded to criticism about her dating David Spade with this hilarious Instagram video.
I'll admit, that's a pretty epic response from Naya, but it doesn't tell us much! It's a good thing a source close to her confirmed she is, in fact, dating Spade.
The source spoke to Us Weekly, revealing,
They started seeing each other a couple weeks ago. It's casual. They're having fun.
OK, so they're technically dating, but it's "casual," and they're simply "having fun." Got it... STILL WEIRD!
After dating Big Sean, Naya Rivera was married to her now ex-husband Ryan Dorsey. They have an 18-month-old son named Josey together. As for David Spade, he shares an 8-year-old daughter with his ex-girlfriend Jillian Grace.
We'll just have to see where this goes!
Citations: Naya Rivera and David Spade Show PDA in a Pool and Fans Are Just Shocked (E! News)