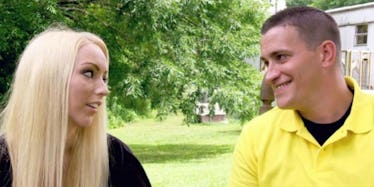 MTV's 'Catfish' Star Robert Brian Clark Dies In Motorcycle Accident
MTV
Three months ago, Robert Brian Clark died in a freak motorcycle accident in Birmingham, Alabama, MTV recently confirmed.
He was just 33.
Clark, who appeared on the second season of MTV's "Catfish," was also a US Marine veteran who suffered from Post-Traumatic Stress Disorder.
Clark was riding a 2011 black Yamaha FZGR when he "became airborne" while crossing a set of railroad tracks. He was ejected from the bike before it landed on its side. Sadly, he was struck by a passing car on the high way.
The accident occurred at around 5 p.m. and he was pronounced dead on the scene at 5:20, according to news reports.
In 2013, Jesse Bettinger asked for "Catfish" hosts, Nev Schulman and Max Joseph, for help meeting Clark after they had a three-year relationship over Facebook.
When the two finally met, it was an unusual happy ending for the reality show. Clark's photos were real and the two hit it off right away.
Eventually, the two decided not to continue their relationship in real life, due to the distance. Bettinger lived in Pennsylvania while Clark lived in Alabama.
Bettinger wrote on Facebook about Clark,
I'll never forget our good times. Your struggle is finally over.
She was, however, annoyed at the media attention over his death.
She wrote on Facebook,
Don't all of a sudden act like a friend of mine because Brian passed away. And really MTV? Fake ass producers call me to get info then do a tribute for Brian 3 months after he died... mostly all of you never even met him. All about the ratings... ugh!! This crap drives me crazy. Just let him rest in peace and leave me alone about it, please.
MTV included a short tribute to Clark on Wednesday night's episode of "Catfish." The reality TV show airs on Wednesdays at 8 p.m. ET.
Citations: 'Catfish' Star Robert Brian Clark Dies at 33 in Motorcycle Accident (US Magazine)