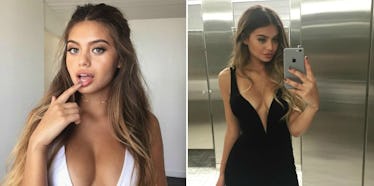 Model Suffers A Nip Slip While Dancing On The Runway In Cringeworthy Video
Instagram
Have you ever had that dream where you show up to school or work naked, and everyone is staring at you?
Well, that's kind of what happened to 19-year-old model Sofia Jamora when she walked the runway recently at Miami Swim Week.
According to MailOnline, during the Frankies Bikinis presentation, Jamora danced on the runway in a sexy one-piece bathing suit.
Sounds pretty routine, right?
Well, apparently, Sofia Jamora really started moving her curvy body because next thing she knew, she suffered a very awkward nip slip!
The video is extremely cringeworthy, but kind of like a bad accident on the side of the road, you're just not going to be able to look away.
Here ya go...
Yeah, I told you Sofia's nip slip moment was pretty bad.
You have to give credit to the 19-year-old, though, because as you can see in the video above, she handled the gaffe like a real champion.
After suffering the nip slip, she smiled at the other models in the show and blew kisses to the spectators in the audience!
According to MailOnline, the YouTube video showing the now infamous nip slip has been viewed over 30,000 times, which is, well, not hard to comprehend.
In addition to the nip slip video, your interest might be piqued by some of the Instagram photos above of Sofia Jamora.
The model is reportedly super into fitness, and she's already racked up just shy of 500,000 followers on Instagram.
It's not hard to see why this is the case, is it?
If the runway nip slip video of the Calabasas, California native was awkward, the following video is sure to prove Jamora is about as close as it gets to perfection.
Clearly, this woman really knows how to rock a one-piece bathing suit.
Don't worry, Sofia, we've all suffered wardrobe malfunctions!
Something tells me this rising star of the modeling world is going to be just fine.
Citations: Model reveals more than she intended in awkward nip-slip as she dances on the catwalk in racy one-piece (MailOnline)