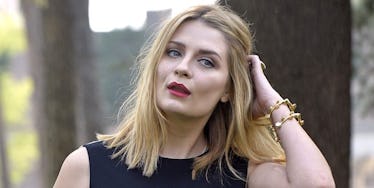 Mischa Barton Hospitalized After Breakdown In Yard And The Pics Are Concerning
REX/Shutterstock
On Thursday, January 26, Mischa Barton was hospitalized after friends and neighbors became concerned over her "odd behavior."
The 31-year-old actress was voluntarily taken to a hospital for a mental evaluation after officers received an upsetting phone call.
According to the pics from TMZ, Barton is seen yelling and leaning over a wooden fence outside of her West Hollywood home.
The actress was captured wearing only a white dress shirt and a tie. You can see a few of the photos below.
Sources who witnessed Barton's unusual behavior said she was saying weird things like,
Oh, my God, it's over! I feel it, and it's angry!
The insiders also heard her calling her mother a witch and talking about the world shattering.
LA sheriff's deputies and firefighters immediately responded to the call.
There isn't much more information on Barton's hospitalization, but hopefully there's an update on her status soon.
One of the actress's last TV show appearances was on "Dancing With The Stars" season 22.
Eight months after she was voted off the show, Mischa Barton opened up about how "awful" the experience was.
In an interview with The Ringer, Barton explained,
Ugh, I had no idea it would be so bad. I got told off by my dancer... I was supposed to control the costumes, I was told that I could do the design aspect of it, that's kind of the reason why I agreed to do it.
She continued,
That didn't happen. It wasn't collaborative like a choreographer on a film set... I was so confused by it. It was like 'The Hunger Games.' It was all a popularity contest. It was awful. I was so glad to get kicked off.
Yikes.
It sounds like Mischa Barton needs a break from the spotlight. Our thoughts are with her during this time.
Citations: Mischa Barton On 'Dancing With The Stars' (E Online), Mischa Barton Mental Evaluation (TMZ)