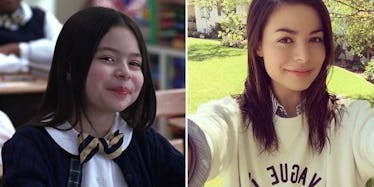 This Nickelodeon Star Grew Up And Is Now A Super Hot USC Student (Photos)
You probably remember Miranda Cosgrove from Nickelodeon's "Drake & Josh" or from the film "School of Rock."
Cosgrove was just a young child star back then, but now, she's all grown up.
The 22-year-old is a student at the University of Southern California and is majoring in film while continuing to pursue her acting career.
She's also grown up a lot and is quite a good looking young woman. Don't believe me?
Check out some photos of Cosgrove below.
Here she is looking chic.
She pulls off the casual look really well.
Cosgrove looks great on the red carpet.
Selfie is a good look on her.
Check out that smile.
She is a real knockout.
That is one fancy dress.
Wet hair, don't care.
She sure likes to take car selfies.
Here's Miranda with a couple of football players.
She has the model look down pat.
Fun photo shoot today pic.twitter.com/SamIgFUKeE — Miranda Cosgrove (@MirandaCosgrove) November 20, 2013
Cosgrove is a shining star.
There had to be a throwback with Jack Black.
Citations: Can You Guess Which Nickelodeon Child Star Turned Into A HOT Student At The University Of Southern California (BroBible)