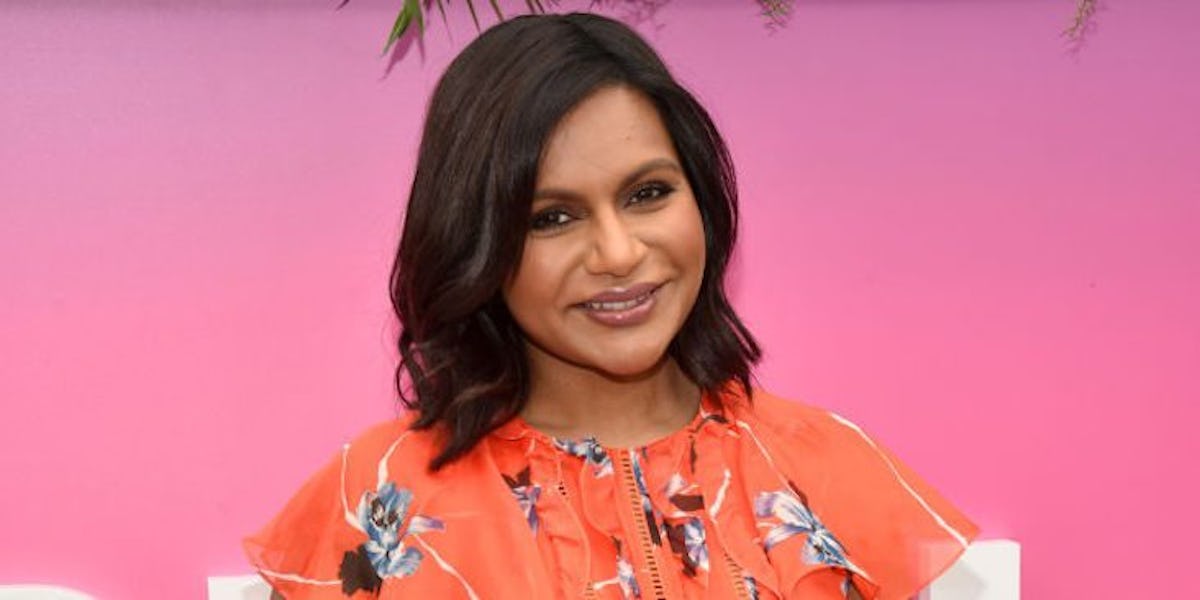 Mindy Kaling's Baby Is Reportedly A Girl, And She'll Be The Coolest Mom Ever
Bryan Bedder / Stringer / Getty Images
Ever since the news dropped that Mindy Kaling is pregnant with her first child, fans have been wondering if she'll be having a boy or a girl. Thanks to interviews her costars gave at the PaleyFest event on Friday night, we now know that Mindy Kaling is reportedly having a girl. According to Us Weekly, the star of The Mindy Project recently revealed the big news to her fellow cast members.
Elite Daily has reached out to Mindy's team for a comment and has not heard back before the time of publication.
While talking to reporters at the PaleyFest Fall TV Preview event in Los Angeles on Friday night, Kaling's costars chatted about how the actress let them know she will be having a baby girl. Ed Weeks, who plays Dr. Jeremy Reed on the show, said Kaling took her costars aside while they were all on set to let them know about her pregnancy before the public did.
Then, when she revealed the news of a little girl, he recounted a sort of "circle of life" moment. Kaling reminded her costars that her mom unfortunately passed away before the show aired, and now Kaling is expecting a baby girl as the show is coming to a close. He said,
We were so thrilled for her. The show started as a tribute to her mother, who very sadly passed away just as the show is being picked up, and it ends with her having a daughter of her own. It's a lot a lot. When she reminded us all of that, we all cried in the final table read.
Beth Grant, who plays Beverly Janoszewski on The Mindy Project, was eager to share how excited she was when Kaling told her she's expecting a girl. Grant is especially thrilled for the actress to experience raising a little girl because Grant has a 25-year-old daughter herself -- she can relate to how special this time is for Kaling.
Need proof that Kaling will be the coolest mom? Well, Grant shared that when her own daughter graduated from Julliard, Kaling took it upon herself to make sure Grant's daughter was appropriately gifted for her accomplishment. Grant said,
She does know my daughter and she's been very kind to her. In fact, when my daughter graduated Julliard, she took her to lunch and sent her flowers and gave her a gift and gave her a little costar role on the show this season.
Kaling's women-helping-women reputation seems to precede her. Grant continued to praise the actress as she said, "She's really good about giving young women opportunities and mentoring young women, so I think it's a natural thing for her to be a mom."
Not only is Kaling the creator, star, and executive producer of The Mindy Project, she writes on the show, too. Her talent with words doesn't stop there, though. She's also penned two books, Is Everyone Hanging Out Without Me? and Why Not Me? Needless to say, her daughter won't have to look too far for a strong female role model.
If her little girl ever needs a laugh, a quick scroll through Kaling's Twitter feed should do the trick.
I have a feeling that Kaling will have her hands plenty full very soon.
Kaling will teach her daughter how to properly snack during important games.
Puns, nachos, and basketball? Yes, please.
Kaling's future daughter will definitely like raiding her mom's closet.
Seriously, Kaling is pretty much killin' the game in every way possible.
Kaling is always supporting the ladies.
From the looks of it, Kaling's future little one will be in more than capable (and extremely cool!) hands.
Congrats, Mindy!